USDC, one of the leading stablecoins, is overcollateralized if Circle's latest breakdown is anything to go by.
Circle Breaks Down USDC Reserves
Circle, the official issuer of the centralized stablecoin, said it had $55.7 billion in reserves, $42.12 billion of which were held in short-term U.S Treasures with an average maturity day of 43.9 days as of June 30, 2022. The remainder, $13.58 billion, was in cash at a regulated and FDIC bank in the United States.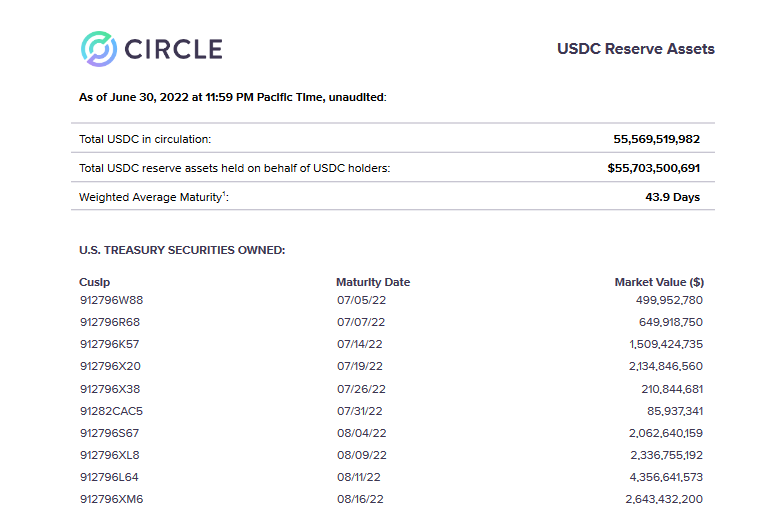 According to trackers, as of July 15, USDC had a market cap of $55.2 billion.
Jeremy Fox-Geen revealed that the issuer is also working towards releasing daily disclosure and are coordinating with their asset custodians to make public the number of assets they each hold. Most importantly, funds held by Circle in regulated banks are protected by law as afforded to other large-scale payments innovators entrusted with billions of investor funds.
The USDC reserve is held solely in cash and 3-month U.S. Treasuries, held in segregated accounts for the benefit of USDC holders, and is entirely separate from Circle's operations. The USDC reserve is subject to all the same protections under U.S. state and federal law as afforded to other large-scale payments innovators entrusted by millions of customers with tens of billions of dollars of customer assets.
In a report issued on July 14, Circle added that its operational funds are separate from clients' deposits. The breakdown was purposeful for transparency reasons. Circle is taking steps to build trust, improve client confidence and assuage fears that USDC, a critical component in crypto and DeFi, was financially sound.
The breakdown is beside the monthly attestations released by their approved third party and annual audits that are part of Circle's annual financial statement. These audits, Circle said, are always filled with the U.S. SEC and are public. Their continuous audits confirm the accuracy, completeness, and composition of the USDC reserves. As designed, each USDC must be redeemable for $1 at any instance.
The USDC and USDT Assurance
In the current bear current, there were concerns that the contagion of UST failure could spread over to other stablecoins like USDT and USDC. However, Tether Holding, the issuer of USDT, has reassured holders that USDT is financially sound and won't be impacted by the bear market. Circle is also reassuring its community of its commitment to transparency, a bullish development, and assurance to crypto that's highly dependent on stablecoins.