After three days of voting, Aave DAO, the governance body of Aave, a decentralized money market on Ethereum, has approved the creation of an algorithmic stablecoin tracking the USD dubbed GHO.
Aave Community Approves the Creation of GHO Stablecoin
501k AAVE tokens were cast in favor of the proposal, representing 99.99 percent of all votes. According to details on the Aave DAO voting page, the decentralized governance body will determine collateral assets accepted for the minting of GHO. GHO will be overcollateralized by other cryptocurrencies and be algorithmic.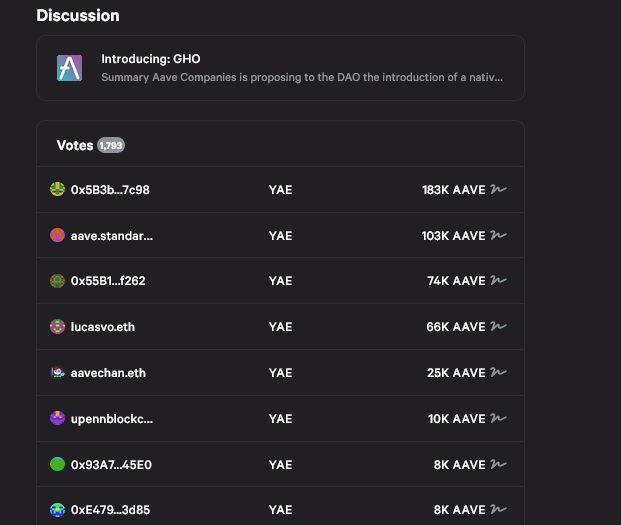 However, a notable observation is that users who supply collateral to mint GHO will continue earning interest. Interest payments received from minting GHO will be distributed directly to the DAO.
The next step is for the Aave DAO protocol to implement the creation of the stablecoin via an Aave improvement proposal (AIP). Going forward, the immediate goal is to implement GHO on Ethereum Layer-2 protocols.
Focus on Ethereum Layer-2
Unlike the mainnet, Ethereum layer-2 solutions like Arbitrum, Optimism, and Metis have negligibly low transaction fees. Subsequently, minting GHO on the platform will be relatively cheaper and would be a factor sparking adoption.
Besides, the Aave DO has stated that it aims to ensure that the GHO is built on a solid base, allowing for audits and continuous improvement based on feedback submitted.
Aave DAO assigns the Ethereum V2 Market on the Aave Protocol as the first facilitator for GHO while also green lighting the GHO proposal more generally, allowing for audits to take place in the context of broad community approval. It will be followed by a separate proposal that outlines a proposed strong starting state for GHO, which incorporates and builds upon the aforementioned feedback while helping to ensure that GHO is community-driven from the get-go.
Aave joins a growing List of Protocols Minting Stablecoins
Aave is an open source, decentralized lending and borrowing protocol on Ethereum and one of the largest DeFi protocols. As of early August 2022, Aave had a total value locked (TVL) of $4.8 billion. In this protocol, lenders who supply liquidity earn passive income while borrowers receive instant loans by depositing collateral.
The platform now joins a growing number of protocols creating stablecoins like MakerDAO. MakerDAO is one of the first Ethereum-based platforms to allow users to mint interest-bearing stablecoin, DAI.
Image by mohamed Hassan from Pixabay