At the backdrop of the UST debacle, which saw the algorithmic stablecoin crash, effectively de-pegging with the greenback, there are concerns that the USDT, popularly known as Tether, could be heading in the same way.
Will Tether (USDT) De-Peg?
Observers on Twitter noted that the USDT, the world's most popular and capitalized stablecoin with over $83 billion in market cap, briefly dipped to $0.967, causing jitters.
Currently, the USDT is trading at $0.986 for every dollar. This is still far from the ideal $1 or $0.999, the typical range of a stablecoin.
The coin, by design, tracks the USD. For every USD, the Tether platform mints an equivalent amount in USDT, depending on the base network.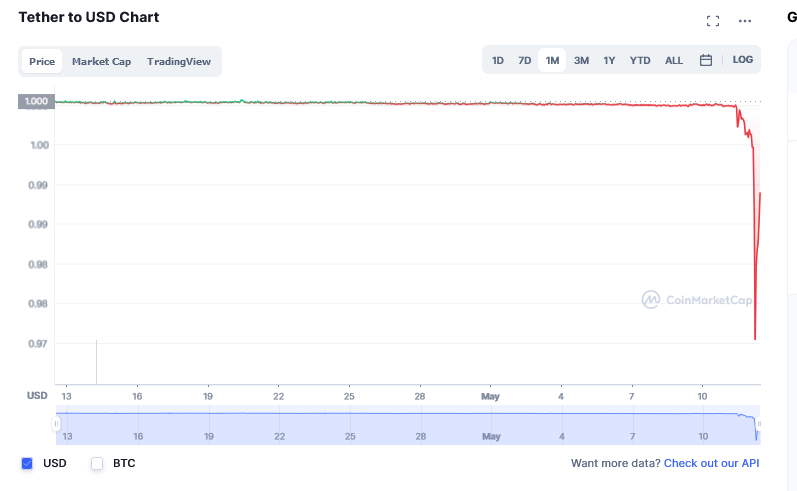 Concerns about the de-peg arise from Tether's lack of transparency. Years after launching, there has been no audit of its reserve, a reason why critics say USDT in circulations isn't satisfactorily backed by hard USD as claimed.
Tether has since reassured the community that its reserves are sufficient and backed by U.S. Treasuries, as per a tweet on May 12.
All the same, the crypto community remains cautious. Some are skeptical of USDT's longevity. In a social forum, a user blasts Tether saying:
The fact that they've been minting billions of Tether without collateral should make it abundantly obvious that this isn't a stablecoin and never had been. Anyone can pretend to have a peg in the good times, but that doesn't mean there's a peg or that the peg will remain in bad times. And if you can't count on the peg in bad times, it's not a stablecoin.
Crypto will Crash if USDT Falls
It should be noted that a de-peg of USDT could be catastrophic to the cryptocurrency market. USDT is multi-chain, available on several platforms, primarily Ethereum, Algorand, and Tron. However, it has proven crucial for Ethereum considering the network's DeFi and NFTs activities. Most swapping and lending DeFi platforms list USDT, allowing users to earn above rate yields through lending or liquidity provision.