Vitalik Buterin, the tech prodigy and co-founder of Ethereum, has admitted that layer-2 processing fees have to be reasonably low for these off-chain solutions to find wide stream adoption.
In response to a tweet on May 4 comparing various Ethereum layer-2 fees, Vitalik noted that charges are still comparatively higher and should ideally be below $0.05.
Nonetheless, despite challenges, the network has made impressive strides to address high mainnet fees and scale the network over the past few years.
Comparing Ethereum Layer-2 Protocol Fees
According to trackers, the Metis Network—a layer-2 option for deploying smart contracts and posting transactions–, is the cheapest.
For every simple ETH transfer, the protocol charges $0.02. This is within Vitalik's range, but there are secondary factors to consider. A big part being Metis Network's dApp load.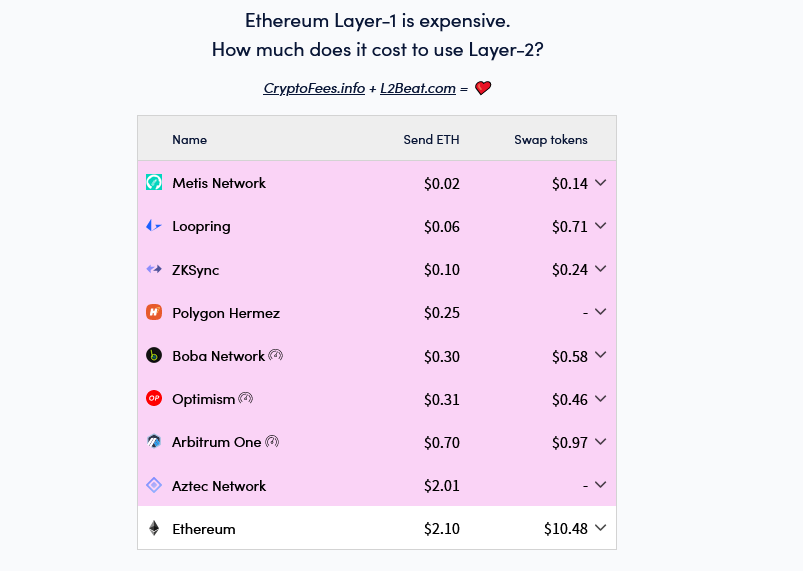 Meanwhile, Loopring and ZKsync, which are emerging choices for users and traders, have fees of $0.06 and $0.10, respectively. The most active layer-2 networks like Arbitrum and Optimism are relatively more expensive to transact from. A user would spend $0.31 to send ETH and $0.46 to swap tokens on Optimism. Meanwhile, on Arbitrum, a user would pay $0.70 and $0.97, respectively, to post similar transactions.
Layer-2 Fees lower than Scalable Mainnet Alternatives
While Layer-2 protocols offer viable options for sensitive Ethereum users actively deploying or transacting from the platform, their fees are relatively higher than other modern mainnet options.
For example, transacting on Avalanche's C-Chain or Solana draws less in fees than in Ethereum's layer-2.

At the same time, these modern, scalable mainnet smart contracting networks are also more reliable, secure, and decentralized than layer-2 options.
The latter are operated off-chain though transactions are batched and eventually settled on the mainnet.
Ethereum is a choice Network
The first-mover advantage offered by Ethereum is why the network retains a lead and is preferred by most developers.
Over the years, the demand for block space has increased as DeFi and NFT protocols find mainstream adoption.
The deployment of complex smart contracts coupled with a deluge of activity in a network struggling with scaling has concurrently pushed trading fees higher, forcing developers back to the table.