When an unknown person knocked on Do Kwon's door on the evening of May 13 and ran, Do's spouse immediately reported to the police, asking for protection.
YouTuber Lost $2.4 Million when LUNA Crashed
A BBC report on May 24 identified the intruder as a devastated YouTuber going by the name "Chancers" who lost $2.4 million and "felt like dying" when UST and Terra LUNA prices crashed. In an interview, he said he surrendered twice to law enforcement immediately after news began doing rounds on Terra founder's house being broken into. He was charged with house trespassing and would likely get a fine and a criminal record that "makes his life difficult."
It has now emerged that the YouTuber, devastated by the loss, wanted to ask Do Kwon what his immediate plans were for the cryptocurrency. The YouTuber said he has been involved in the industry since 2017. However, the collapse of LUNA had seen him take a massive $2.4 million. At peaks, each LUNA in circulation changed hands at over $118.
It was not immediately clear if the YouTuber's crypto worth was only denominated in LUNA or diversified to include other cryptocurrencies like Bitcoin.
The UST De-Peg and LUNA Crash
The decision by Terraform Labs to release an algorithmic stablecoin, UST, besides LUNA, was the root cause of their eventual failure. The stablecoin was tied to LUNA.
The de-pegging of UST and the subsequent failure of LUNA not only forced the cryptocurrency market lower, shaving billions of dollars in the industry's market cap but also destroyed the livelihoods of many LUNA and UST investors.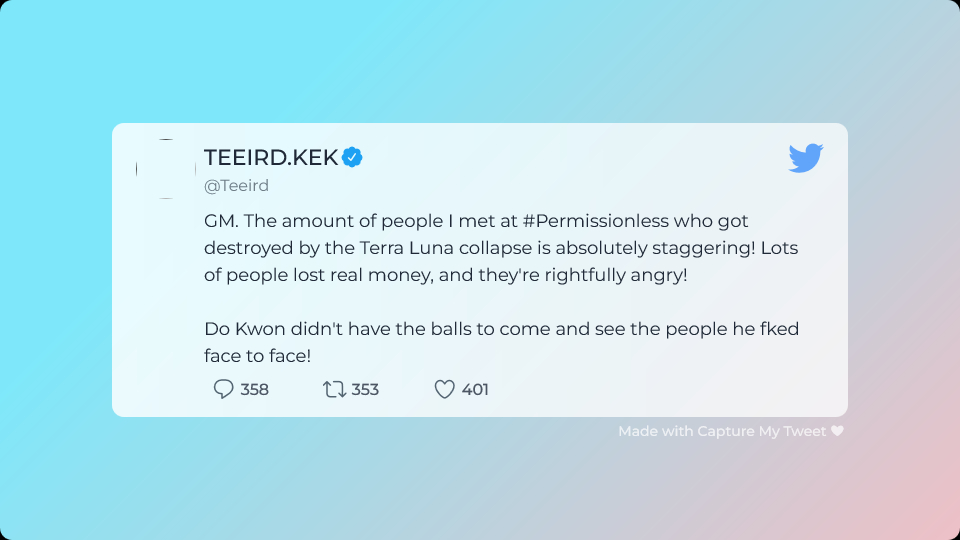 Before the eventual collapse, the non-profit LUNA Foundation Guard (LFG) had to liquidate billions of cryptocurrencies in its reserve. Their liquidation of Bitcoin, the most liquid of all cryptocurrencies, worth over $1.5 billion, forced prices to tank. The resulting reverberation affected other digital assets, forcing them lower, massively diluting the efforts by LFG to restore the UST peg.
Crypto Bosses Should Be Held Accountable
The YouTuber now claims that LUNA was a scam and was saddened by cryptocurrency bosses getting away and not being held accountable for their failures. Do Kwon and Terraform Labs have been accused of being reckless, and the CEO now faces a tax evasion suit in South Korea.