The UST-USD peg is all but toast.
The algorithmic stablecoin backed by a range of cryptocurrency assets, primarily Bitcoin, LUNA, and AVAX, under the LUNA Foundation Guard (LFG) has de-pegged.
As of May 10, UST is down a massive 10 percent, trading at $0.899, up from $0.69 against the USD. This drop broke the peg, forcing LFG to liquidate and keep the stablecoin afloat.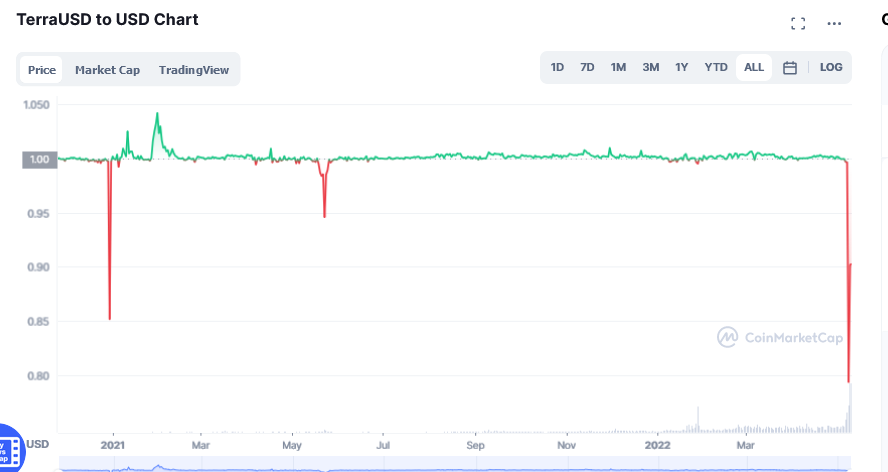 The slide of UST is even more profound than Bitcoin's, which is down around four percent in the last day. This dump points to jittery holders exiting from the interest-bearing stablecoin, which was marketed as a liquid alternative to DAI, an algorithmic coin managed by MakerDAO and issued on Ethereum.
For the uninitiated, a stablecoin is supposed to be stable, as the name suggests. In this case, considering the high volatility of the crypto market, innovators a coin that tracks the USD and other fiat currencies due to their perceived stability. They have since become a permanent fixture in the sphere, allowing users to safeguard value during time of high volatility and bear runs.
The UST Intrigues
The UST was supposed to be algorithmic and track the USD, backed by a reserve under the LFG. A big chunk of this backing was Bitcoin.
According to data, the LFG accumulated Bitcoin from the spot market to keep the UST afloat.
However, in the past few days, the high volatility in the market coupled with the general fear that the LFG won't maintain the peg forced massive withdrawals from Terra's Anchor Protocol and rapid conversion of UST to USDT and other stablecoins. The intervention by LFG to keep the UST peg going further contributed to the downturn, causing the UST-USD rate to widen.
Thus far, the massive liquidation of BTC held as reserve by LFG is said to be the primary reason for the huge dump of Bitcoin's prices. According to trackers, the foundation has transferred 37,000 BTC to Gemini for liquidation.
As expected, the more BTC are sold, the more the selling pressure on the coin and the larger there will be liquidation.
However, as LFG intervenes, the UST peg could be restored in the medium term, but user confidence might be damaged forever.