The near 50 percent Bitcoin plunge from November 2021 peaks could be a deliberate attempt by whales to force the Luna Foundation Guard (LFG) to liquidate its BTC reserves, causing the UST de-peg, analysis on May 8 suggests.
The Bitcoin Plunge "Manufactured"?
The pressure on LUNA and the broader cryptocurrency market has been immense in the past few weeks. It is a development that's causing the destabilization of the UST peg.
Subsequently, the domino effect resulting from the market sell-off has forced traders to convert their UST to other crypto assets, mostly USDT and USDC, not LUNA, heaping more pressure on the LFG.
At press time, the BTC price is down roughly 50 percent from Q4 2021 peaks, changing hands at $33.5k, according to trackers.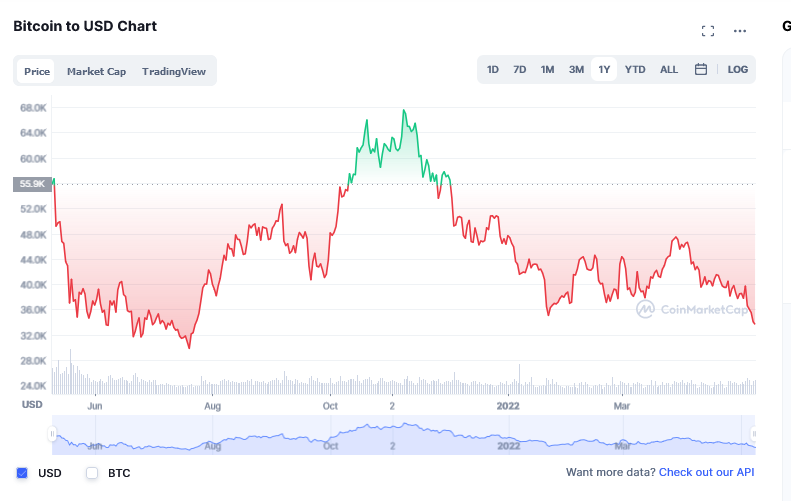 As BTC struggles against the intense deluge of selling pressure, other crypto-assets, including LUNA, have been pinned down. LUNA is currently down double digits, dropping 20 percent in the past trading week.
Central to the fast-rising Terra ecosystem is the algorithmically controlled stablecoin, UST. The coin is theoretically supposed to maintain a 1:1 peg with the USD. However, on May 7, 2022, the stablecoin fell to as low as $0.985 against the USD.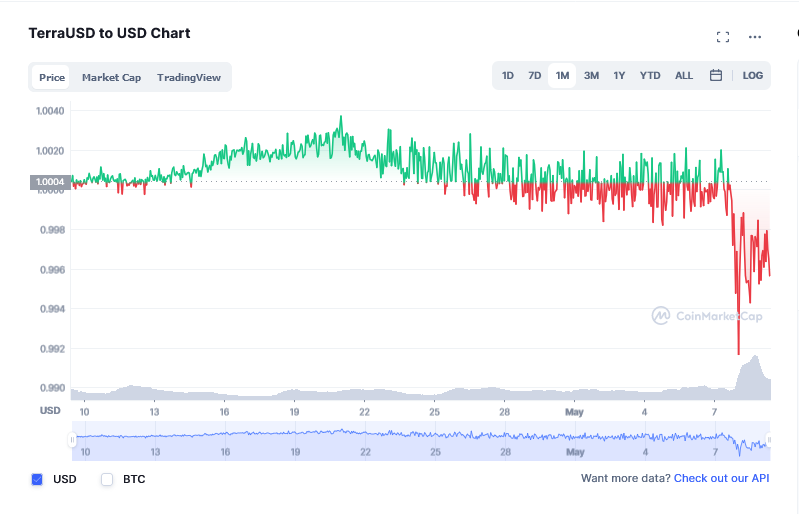 It has since recovered to $0.99 but is still below the ideal $1.
Will BTC continue Falling, Crashing UST?
The LFG currently holds roughly $3.5 billion in BTC, AVAX, and LUNA in its reserve. A significant portion of this stash,93%, is in BTC. These coins can be sold as a last resort to maintain UST stability, keeping parity with the USD.
Ordinarily and during normal market conditions, the Terra system keeps the peg at 1:1 against the USD by allowing arbitragers to convert $1 of UST with an equal amount in LUNA. The swapped UST is burnt. The resulting buying pressure keeps UST stable.
UST supporters now claim whales are hatching a plan to keep BTC prices suppressed and force LFG to liquidate all of its BTC stash. Already, the LFG has sold about $750 million of BTC to allay fears of a de-peg.
Thus far, there are claims of "massive buy walls" at certain price levels in the leading cryptocurrency exchange, Binance. They plan to eventually buy the liquidated stash at a discount while crashing UST's peg.
Still, the crypto community is watching closely how the UST peg behaves and whether LUNA will continue slumping in the immediate term.