MicroStrategy, a NASDAQ-listed business intelligence firm and a BTC whale, has said it would receive a margin call on some of its holdings if the Bitcoin price fell to $21k.
MicroStrategy will receive a Margin call if BTC falls to $21k
The confirmation by Phong Le, the CEO of MicroStrategy, is an acknowledgment that the inherent volatility of the BTC is a factor beyond their control. Even so, it is highly likely that they would intervene by acquiring more BTC from the secondary market.
The risk stems from the firm's decision to raise debt equaling $205 million from Silvergate Bank to finance the acquisition of more BTC at $30.7k.
The interest-only bank, Silvergate Bank clarified, is being collateralized by MicroStrategy's BTC stash secured by a third-party custodian. By taking a substantial loan using their BTC as a security, Michael Saylor said they were turning their "Bitcoin into productive collateral". He explained that capital received allows them to execute their business strategy.
Factoring in the volatility of Bitcoin and the possibility of the coin retracing from current spot levels to retest 2017 highs, the public company is aware of its substantial risks. The firm took the loan with a 25 percent loan to value ratio.
Phong explained that the margin call would be triggered once the loan to value ratio falls beyond the 50 percent mark. At spot levels, the price of BTC needs to fall by 50 percent for the liquidation trigger to be activated.
Bitcoin's Evolving Utility
MicroStrategy has been strategically amassing a cache of BTC over the years. According to trackers, on May 5, the firm had over $5 billion of BTC. With this amount, the firm is the world's largest public firm with a big cryptocurrency stash.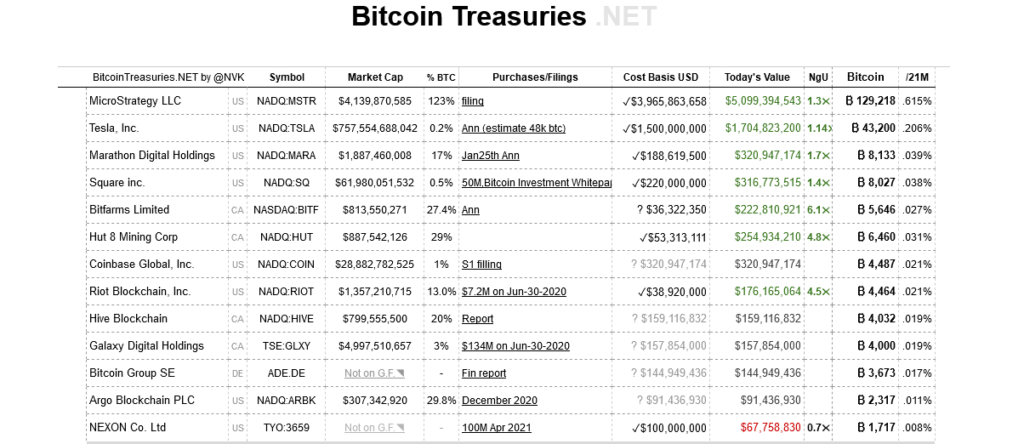 Their accumulation is a strong endorsement of crypto and Bitcoin, which has been used as a store of value in times of economic turmoil. Most notably, Bitcoin is being used as a cushion against spiraling inflation, which has risen to the highest levels in over 30 years in the United States.