Coinbase has made public a database of talent to help them find "their next great role" days after rescinding extended job offers. Affected candidates are now asked to sign up and post their names, social media, discipline, and other identifying details for recruiters and projects to pick them out quickly.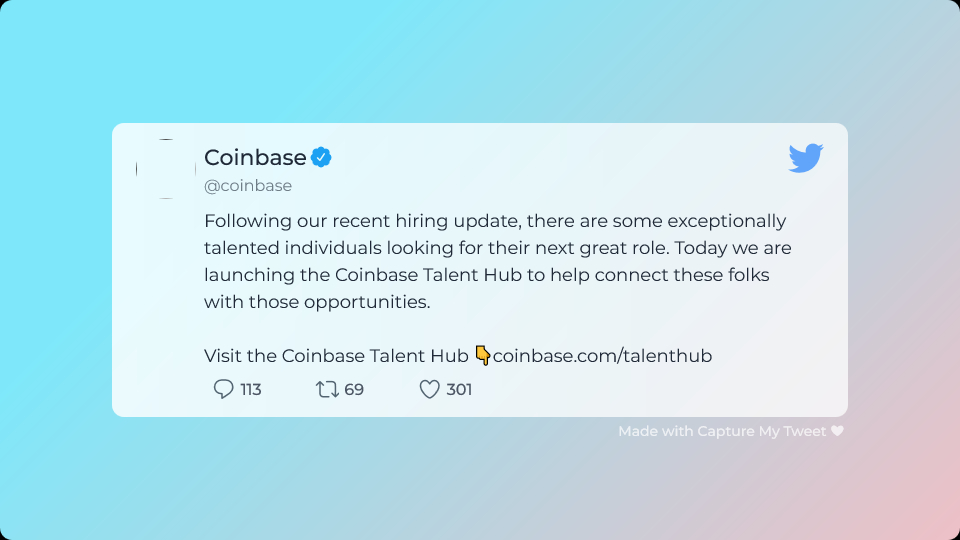 The Coinbase Talent Hub
According to Coinbase's "Talent Hub", the database comprises a list of candidates they describe as "amazing people" affected by their recent hiring update.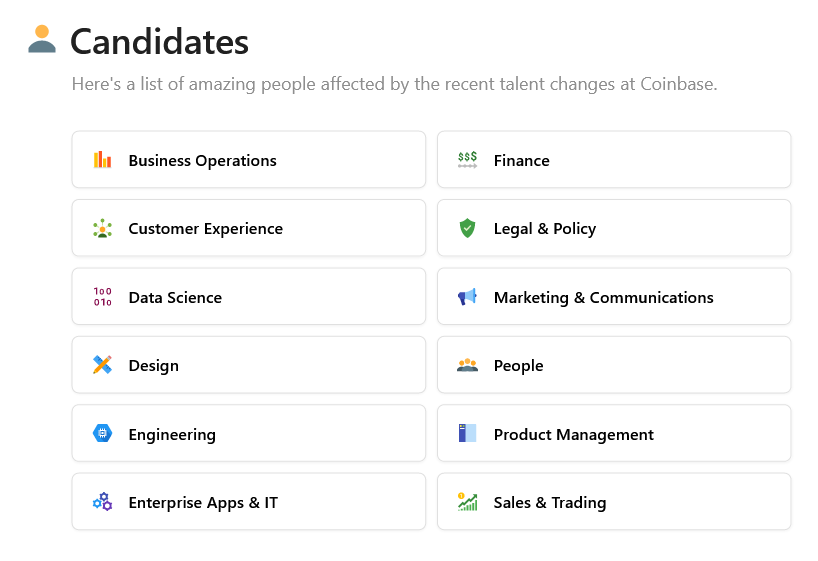 The ledger is updated in real-time and classifies candidates by among many factors and disciplines. However, there is a clear privacy note states that persons who make submissions must agree for their names and details to be displayed on the hub's homepage.
It is important to note that by opting-in to Coinbase Talent Hub, at a minimum, you agree to have your name, discipline, work authorization, and visa status displayed on a public webpage. We recommend you consider what information you are comfortable sharing publicly on this platform as you opt-in.
Coinbase is urging other recruiters to make a copy of the database and freely manage the sourcing list. Moreover, depending on their needs, recruiters will be free to contact any of their preferred candidates. Nonetheless, candidates should stay vigilant to avoid scams should they be contacted.
Currently, over 310 candidates had signed up with reassurance from Coinbase that submission would be free. Most of those impacted were software engineers, and those who can re-submit their names include former candidates.
Notably, talents are drawn from diverse industries in the crypto and technology sector. Interestingly, applicants include those working in established giants like Instagram, Amazon, Square, PayPal, and more.
The Coinbase Hiring Freeze
Earlier, Coinbase announced that it was freezing its hiring and even rescinded offers made to candidates promised slots at the exchange. Citing tough market conditions, the exchange said it was taking more stringent measures in hiring.
At the backdrop of this announcement, Coinbase had announced a $420 million loss in Q1 2022. Its stock, COIN, slid by over 75 percent from all-time highs.
Their decision comes a few weeks after declaring that it would slow down hiring. However, this was before the severe market turn forced the exchange to take even more stringent steps. Though it was an unpopular decision, it was a move by the San Francisco-based ramp to grow in high-priority areas.