According to a 1,157-page submission of affidavits and court documents released on July 18, the now-collapsed crypto hedge fund, Three Arrow Capital (3AC), owed over 25 creditors, including Algorand Foundation, Genesis that's a subsidiary of Digital Currency Group (DCG), and BitGo, a total of more than $3.5 billion.
Algorand Foundation among 3AC Creditors
In a filing by the firm's officially appointed liquidator, Teneo, the largest creditor is Genesis, the brokerage subsidiary of DCG that lent 3AC $2.3 billion, a substantial sum that DCG said has already absorbed as the business remains well capitalized and operations are as usual.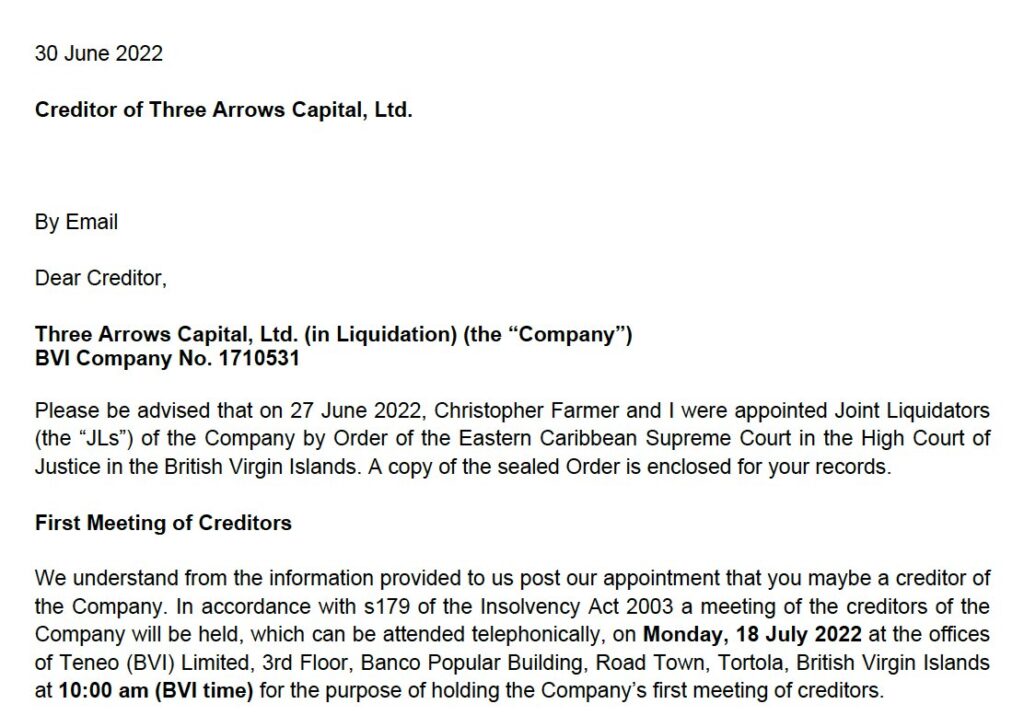 Other impacted firms include BlockFi and Voyager, both of which have since filed for bankruptcy. However, Algorand Foundation, the nonprofit team behind Algorand, a high-performance smart blockchain, is a notable creditor on the list.
3AC didn't honor lock-up Terms
According to details made public, the foundation entered a one-off OTC swap with 3AC, selling ALGO, their native coin, below market price but didn't supply the crypto fund with an unsecured loan or a line of credit.
Instead, the foundation realized later that 3AC had violated the binding lock-up terms, which would have seen the hedge fund lock the ALGO tokens. Subsequently, for the losses incurred following this violation, the foundation is seeking damages.
Still, a transparency report supplied by the Algorand Foundation didn't specify the amount of ALGO sold to 3AC. What's clear is that if the hedge fund failed to honor the lock-up terms, then it is likely that they were discreetly liquidating the foundation's coins to cover up for its piling liquidity pressure before ceasing operations and filing for bankruptcy in the British Virgin Island and later, New York.
Algorand Foundation Accused of Being Reckless
For the potential loss that the foundation will likely soak, the team is being accused of negligence, specifically for failing to take prudent measures by hard locking swapped tokens in a smart contract.
Nonetheless, critics say this shouldn't have been the case considering that Algorand is a smart contracting platform and the network's whole existence ensures the transition to trustless operations.
The collapse of 3AC caused a ripple effect across the crypto market, further heaping pressure on leading assets, including BTC.