The Winklevoss Twins are betting big on crypto despite a cool-off in digital asset prices, recession fears, and raging inflation.
Winklevoss Twins Hold Stake in About 50 Blockchain Startups
The billionaire twins, estimated to have a combined net worth of over $6.4 billion, have invested in approximately 50 cryptocurrency and blockchain companies, according to their crypto portfolio posted online.
Their stakes are invested through their family office, the Winklevoss Capital Management, and the investment arm of Gemini, a regulated cryptocurrency exchange that they own.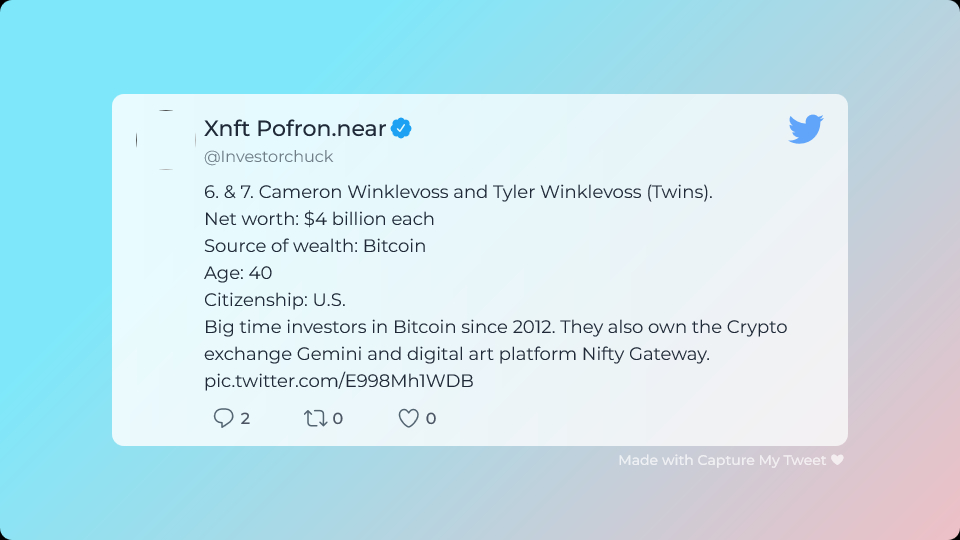 Notably, the twins have invested in diverse crypto-focused companies, from the self-amending smart contracting platform, Tezos to Xapo Bank, a crypto custodian that provides enterprise-grade cold storage facilities.
Their continuous investment in crypto is a continuation of their strong belief in crypto, a conviction they have had in the industry since they bought roughly one percent of the total Bitcoin supply in 2012.
The LUNA and UST Collapse and a Crypto Cool-off impacting Funding
However, the recent dip in the cryptocurrency market could test their resilience. The worrying collapse of LUNA and the algorithmic stablecoin, UST, have sent negative reverberations across the cryptocurrency markets, causing jitters.
The result has seen regulators, policymakers, and law enforcement, especially in South Korea, zoom their lenses once more into the space. Amid these developments, Bitcoin and Ethereum continue to trickle lower, forcing "weak hands" to sell, further fueling the dump.
The contraction in the crypto market as central banks change their monetary policy stance could also impact crypto funding in the U.S. and across the globe.
For the first time in two years, it is likely that most venture capitalists will tighten their purse strings, according to insights from PitchBook. Whether the billionaire crypto twins would hold off until market conditions improve is not clear.
Winklevoss Twins are unfazed by the Bitcoin Selloff
Earlier on, they told Bloomberg that they would continue investing and supporting "next-generation builders and developers", adding that they were risk-takers who weren't afraid to "invest big and fail greatly".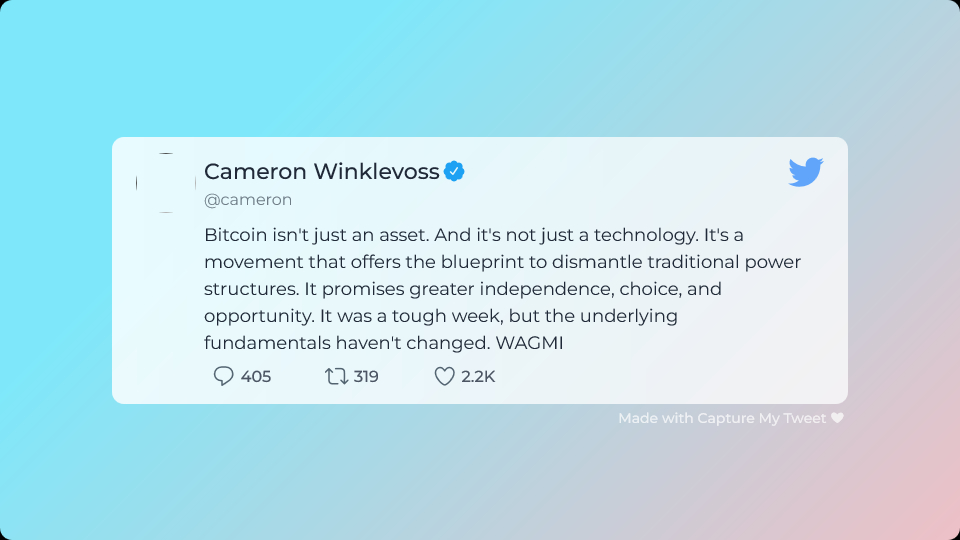 Commenting on the current crypto downdraft, Tyler Winklevoss said he was "unfazed", while Cameron added that he was HODLing. In a recent tweet, Cameron posted endorsing Bitcoin, saying it was more than an asset but a technology.
As BlockMagnates recently reported, JP Morgan analysts place the fair value of Bitcoin at 38k.