Voyager has submitted its Chapter 11 bankruptcy filing in New York, declaring bankruptcy less than a week after suspending withdrawals.
It has also hired two financial advisers in Moelis & Company and The Consello Group, and Kirkland & Ellis LLP, as their legal advisers. Voyager will also restructure, advised by Berkeley Research Group LLC.
The Chapter 11 Filing
In a submission on Wednesday, the crypto lender that has been facing a liquidity crisis for the better part of late H1 2022 said it is seeking time to "explore strategic alternatives".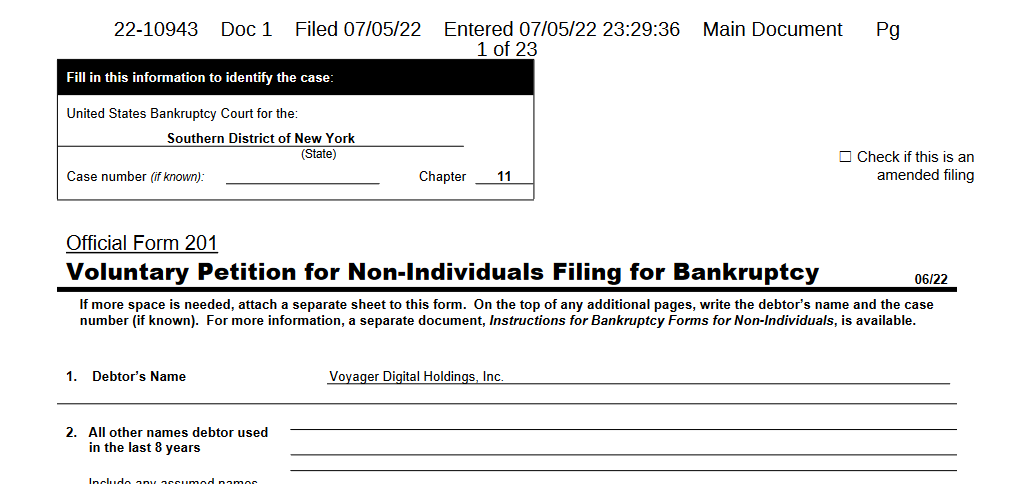 By the time of its bankruptcy, Voyager had more than 100k creditors, approximately $1 billion of assets, and almost an equal amount in liabilities, filing documents revealed. At the same time, it had over $110 million in cash and several crypto assets.
Voyager cites the prolonged harsh market conditions and Three Arrows Capital (3AC), a crypto hedge fund, defaulting on its loan.
Voyageur Digital said 3AC, which has since filed for bankruptcy in Singapore and New York, defaulted on an over $660 million loan extended in Bitcoin and USDC. The loan reportedly comprised over 60 percent of their loan book. This combination is, according to Stephen Ehrlich, the CEO, forcing them to take a decisive action:
The prolonged volatility and contagion in the crypto markets over the past few months, and the default of Three Arrows Capital on a loan from the company's subsidiary, Voyager Digital, LLC, require us to take deliberate and decisive action now.
While Voyager didn't specify which of these "strategic alternatives" they are willing to take at this point, the Chapter 11 bankruptcy filing will cushion them in the meanwhile.
Even though they are declaring bankruptcy, Voyager remains operational and saved from civil litigation matters. They have a chance to strategize and turn around from the quagmire the lending firm finds themselves in.
Most importantly, the filing will seek to protect their primary assets and return maximum value to shareholders, especially their clients. Voyager will continue paying its employees as usual and won't halt some of its customer programs.