By the time Bitcoin prices slumped to as low as $17.6k on June 18, the number of Google searches on the "death" of the world's most valuable cryptocurrency was at a four-year high.
"Bitcoin Dead" Google Searches Spike
Data from Google Trends, a tracker gauging the popularity of organic search terms, and comparing query density over time, showed that users were apprehensive of Bitcoin and feared for the worst.
Between June 12 and 18 last week, searches on the term "Bitcoin Dead" stood at 100. It was the same level when Bitcoin prices peaked at around $19.8k in December 2017.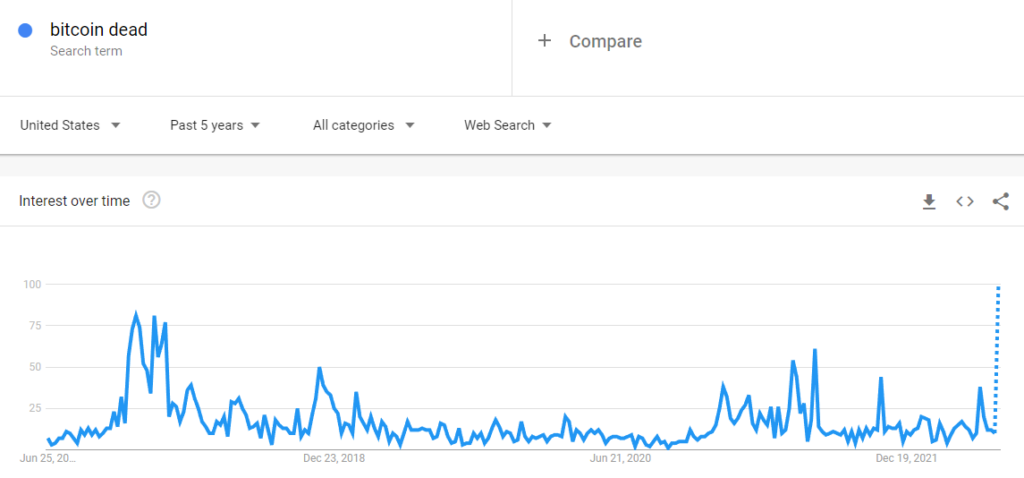 The general fear in the market and specifically on Bitcoin's performance follows steep losses over the past few months. During this time, Bitcoin's valuation slumped from over $69k in November 2021, falling to as low as $17.6k in June 2022 for over 65 percent depreciation from peaks.
The change in Bitcoin's prices over the last seven weighed heavily on the broader crypto markets. Notably, the 70 percent dump on Bitcoin prices also saw most altcoins, including Uniswap and Solana, crash, dropping by over 85 percent from their 2021 peaks.
Measuring Market Anxiety
Google Trends data measures the general anxiety in the market. In less than ten days, Bitcoin prices flash crashed from as high as $30k to below $20k, a psychological support level before bottoming up from $17.6k.
The drawdown marked the first time in Bitcoin's history that prices have fallen from peaks to retest a previous critical high. This change, analysts say, could be because Bitcoin is, for the first time, a large asset class that's also being influenced by macroeconomic factors.
There is a correlation between the traditional finance markets, especially stocks, and the crypto market. Following the shift in monetary policy forcing central banks across the board to tighten, Bitcoin and stocks have been printing lower lows as capital shifts to safe havens, mainly the USD. The crypto and stock market pump in 2020 and the first half of 2021 were due to ultra-low interest rates and an accommodative monetary environment.
According to trackers, Bitcoin prices are trending higher and above the $20k level, relieving traders.