With 3,920.64 BTC tied to the Bitcoin Lightning Network (LN) as of May 31, the layer-2 capacity is at an all-time high, according to trackers.
Bitcoin Lightning Network Capacity at All-Time highs
On the last day of May 2022, the Bitcoin LN capacity stood at 3,920.64 BTC, up six percent in the past 24 hours.
The network's capacity at spot rates translates to over $123.69 million and is projected to grow in the days ahead. As observed, the expansion in network capacity has seen isomorphic and bi-directional channels increase to over 85k. Meanwhile, the number of operational nodes is up by 1.5 percent to 17,569.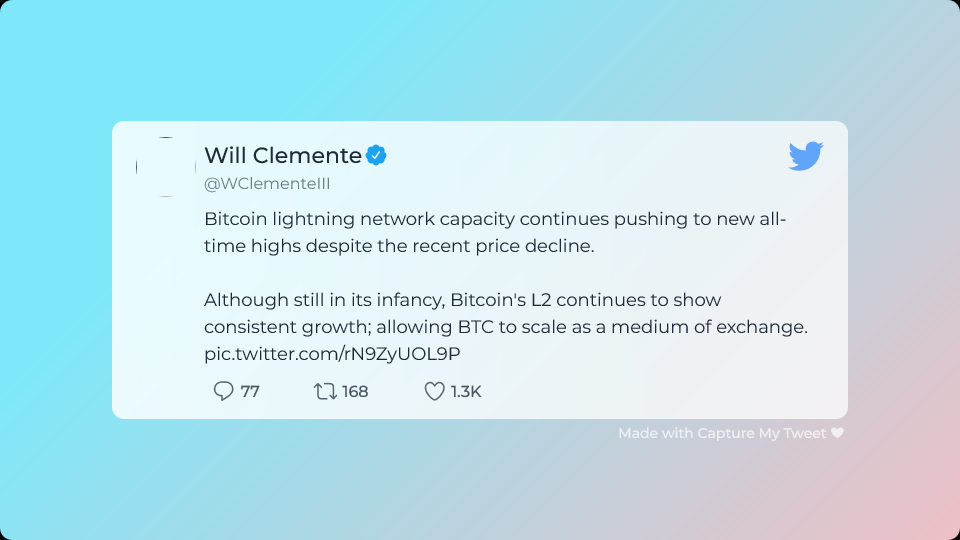 Technically, the capacity of a Bitcoin LN channel denotes the amount of BTC governed by smart contracts within a channel. Meanwhile, the total capacity is the total number of all BTC in all active channels in the layer-2 platform.
Total capacity depends on several factors, including the value of the initial on-chain funding transaction. It is fixed as long as the channel is active.
Given the setup of the Bitcoin LN, users can send and receive payments through the off-chain solution cheaply and instantaneously.
Scaling Bitcoin using an Off-Chain Solution
The Bitcoin Lightning Network is an off-chain solution launched in 2018. Its development is spearheaded by Blockstream, a Bitcoin-centric company that is building foundations for the financial infrastructure of the future.
The objective of the off-chain solution is to scale the base layer (Bitcoin). This allows for smooth sending and receipt of payments without paying high transaction fees, especially during periods of high congestion.
An off-chain channel to scale Bitcoin and increase throughput through a secure solution was first laid out in 2018. This solution follows the ICO hysteria, which saw the Bitcoin network clog, pushing transaction fees to the roof.

While Bitcoin LN has been successful, the increasing tokenization of Bitcoin in smart contracting networks like Ethereum has been seen as more advantageous than looking valuable coins in the LN. Thus far, trackers reveal that there are far more BTC in Ethereum and Tron than in the Bitcoin LN.