If the recent Tether (USDT) quarterly reserve assessment report is anything to go by, then the world's most liquid and largest stablecoin is safe and overcollateralized.
Tether Assuage Fears
After days of jitters about Tether's health in the wake of Terra and UST's collapse, Tether Holdings Limited, the official minter of the multichain USDT stablecoin, is addressing concerns and calming nerves.
Worry primarily stems from Tether's opaque and secretive nature. Since its launch and finding dominance over the years, there has been no official audit on its reserve. The situation is further made worse by recent legal run-ins with the U.S. DoJ.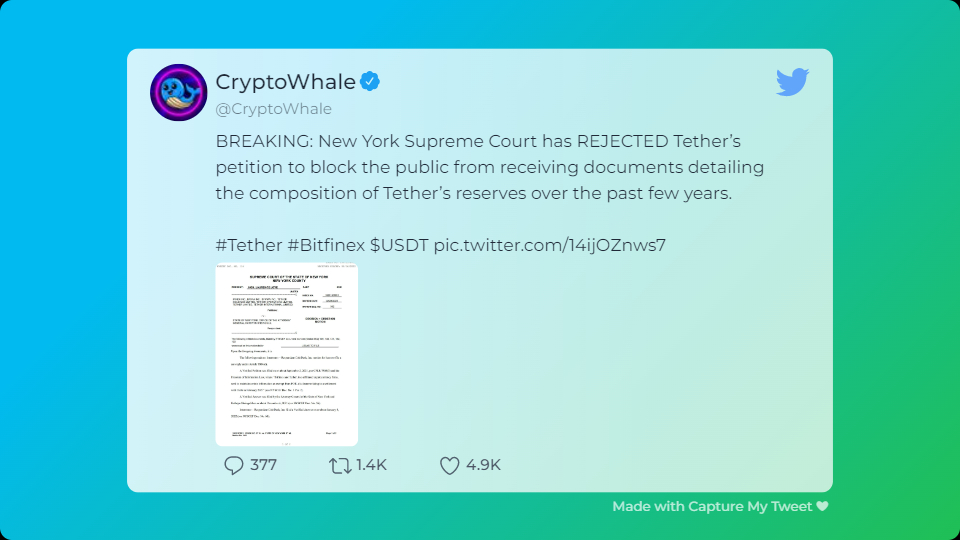 USDT is Sufficiently Backed
However, on May 19, 2022, Tether Holdings Limited hired an independent accountancy firm, MHA Cayman, to verify its consolidated reserve. Afterward, they published an assurance opinion report that estimated their total reserves at slightly over $82 billion. It is more than the $74 billion in circulating supply.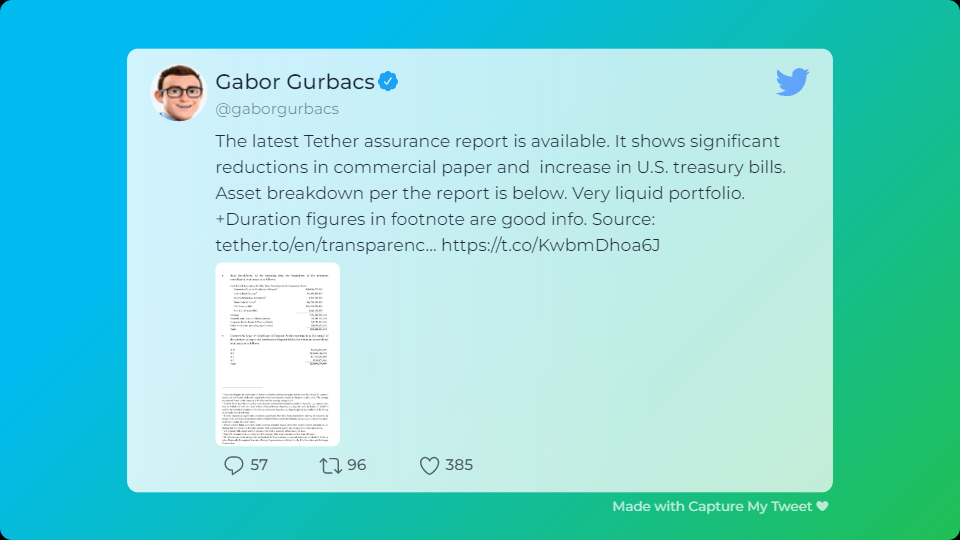 Notably, the accounting firm found that its total assets exceeded liabilities. Furthermore, Tether's "reserves held for the USDT issued exceeds the amount required to redeem the digital tokens issued."
According to Paolo Ardoino, Tether CTO, this report is evidence that the token is reliable:
Tether has maintained its stability through multiple black swan events and highly volatile market conditions. Even in its darkest days, Tether has never once failed to honor a redemption request from any of its verified customers. This latest attestation further highlights that Tether is fully backed and that the composition of its reserves is strong, conservative, and liquid. As promised, it demonstrates a commitment by the company to reduce its commercial paper investments and, in doing so, led to a rise in its holdings in U.S. Treasury Bills.
Minter is Doubling down on U.S. Treasuries
From the report, the USDT minter seems to be solidifying their base by mitigating risks associated with commercial papers regardless of their credit ratings.
Tether Holdings Limited reduced its commercial paper holdings from $24.2 to $20.1 billion in Q1 2022. They further slashed their exposure to commercial papers, reducing their holdings by 20 percent in April 2022.
To make up for this, Tether Holdings Limited doubled down on money market funds and U.S. Treasury bills.
Their holdings on the same notably rose from $34.5 billion to $39.2 billion, a 13 percent increase.
At the same time, the minter reduced their secured loans by $1 billion. Meanwhile, the average credit ratings for certificates of deposit and commercial papers rose from A-2 to A-1.
Tether Holdings Limited seems to be gravitating towards stability. This move is a net positive for crypto considering the critical role played by USDT. It further calms nerves following the damaging collapse of UST, which saw crypto and BTC prices tank.