Organic searches related to non-fungible tokens or NFTs are at a yearly low, slumping over 70 percent from January 2022.
According to Google Trends, the contraction could be due to a shifting market cycle that saw cryptocurrencies decline from peaks, with some assets shedding over 60 percent of their 2021 peaks.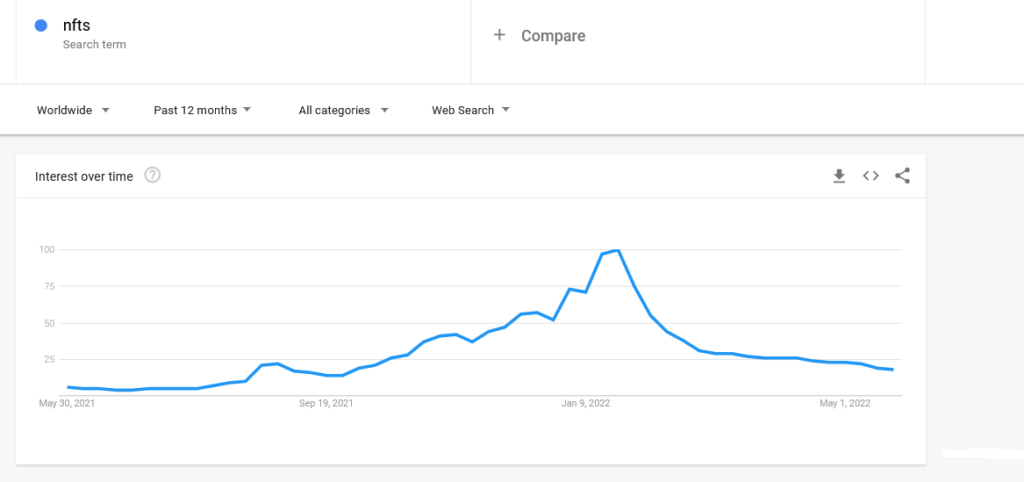 Over the past few years, from 2021, NFTs have continued to be a big part of the burgeoning cryptocurrency and blockchain ecosystem. Unlike fungible tokens, NFTs cannot be exchanged for another.
Because of their on-chain provenance and digital existence, the technology has found application in the art and gaming sectors, empowering users and eliminating red tape.
NFT Sales Peaked in January
At the last Bull Run peak, top-tier NFTs like BAYC, CryptoPunks, and others contributed the most trading volumes. In January, the total NFT trading volumes rose to over $16.5 billion, an all-time high.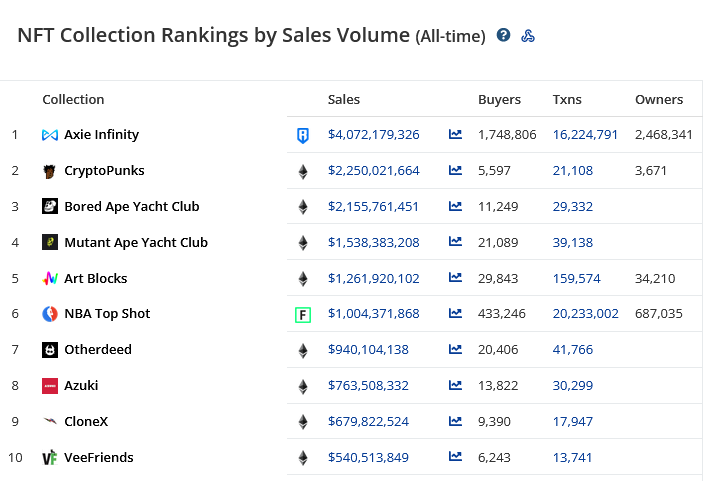 During this time, NFTs like BAYC, Mutant Ape Yacht Club (MAYC), and Axies were fans' and collectors' favorites. MAYC and Axie Infinity NFTs drew over $252 million and $126 million in trading volumes, respectively.
Fast-forward four months later, and at a depth of the bear market, the valuation of most NFTs has been drastically slashed, according to trackers.

At the tail end of May, the total NFT trading volumes are down over 70 percent from peaks, with sales of Axie Infinity down to $7.1 million.
Meanwhile, MAYC and BAYC NFT sales in May stood at $180.9 million and $237.4 million, respectively.
Ethereum is a Choice Platform for Minting NFTs
Trackers also show that the total NFT trading volumes in the last month shrunk roughly 14.5 percent to $3 billion. More than 655k buyers were generating over five million transactions during this time.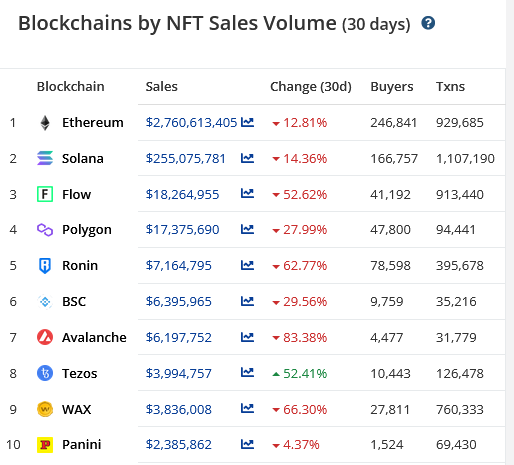 A notable observation is that despite scaling challenges in Ethereum, it remained a top choice for minters. Over $2.7 billion of NFTs in sales were generated in the smart contracting platform in the last month alone.
A contributing factor could be because of decreasing on-chain Gas fees as on-chain activity shrunk to reflect the apprehensive state of the broader market. Solana, Flow, and Polygon emerged as the other common platforms with active NFT communities.