As per a recent announcement at the Koibanx Twitter Spaces, the Government of Nigeria will be using the Algorand blockchain for intellectual property (IP) registration and all related payment services, reducing frictions in heavily reliant sectors, especially the entertainment industry. Specifically, under IP registration, Algorand's technologies will be used effectively in, among many services, trademarks, patents, licensing, software, and streamable content like music and videos.
A Wallet and Naira Stablecoin on Algorand
Following this partnership, the developer behind the project, the Developing Africa Group (IPR), will proceed to develop a compatible wallet and a naira stablecoin. The wallet will run on the Algorand blockchain. Additionally, there will be a "credit card" that can be used to make payments using the Naira Stablecoin anywhere the Naira fiat currency is accepted as a means of payment.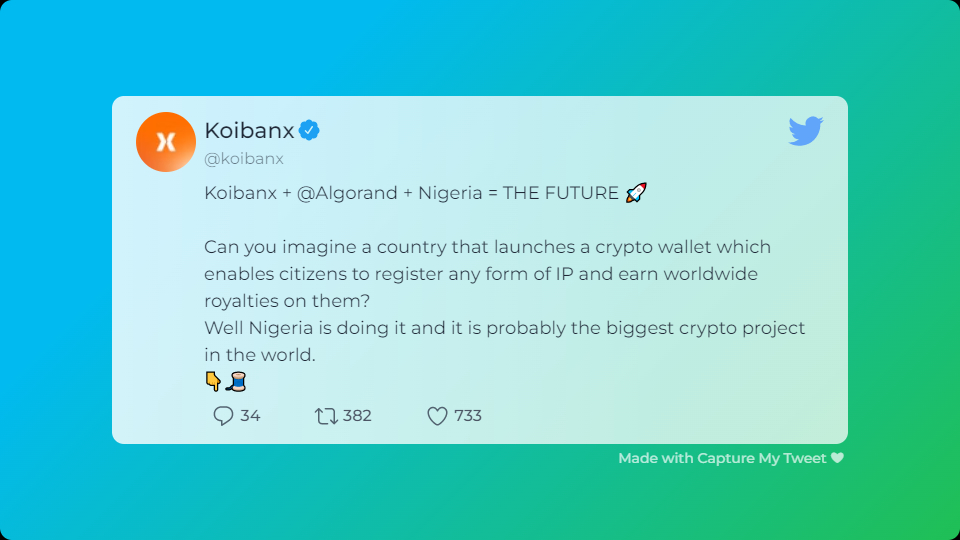 According to Koibanx, the platform will be marketed as a portal for the "Nigerian population to register and commercialize their different IP rights."
The Nigerian Government has given (IPR) the exclusivity to build the national wallet running on Blockchain, which will be promoted as the official channel for the Nigerian population to register and commercialize their different IP rights.
Notably, this project will act as a secure blockchain-based marketplace where IP assets will be exhibited and sold. When necessary, the platform will be where royalty payments are initiated.
The project will serve as a virtual market where IP assets can be exhibited, sold, and royalty payments are initiated. Therefore, proffering the solution to the market friction facing the entertainment industry.
Promoting Algorand and Crypto Adoption
IPR is using technology in Africa to create jobs and drive pan-African trade services. By leveraging the Algorand blockchain to build a secure, transparent platform for IP registration and payments, it aligns with their overarching objectives. Additionally, this step goes a long way in driving crypto adoption while highlighting the benefits of Algorand and blockchain, especially in enhancing government infrastructure.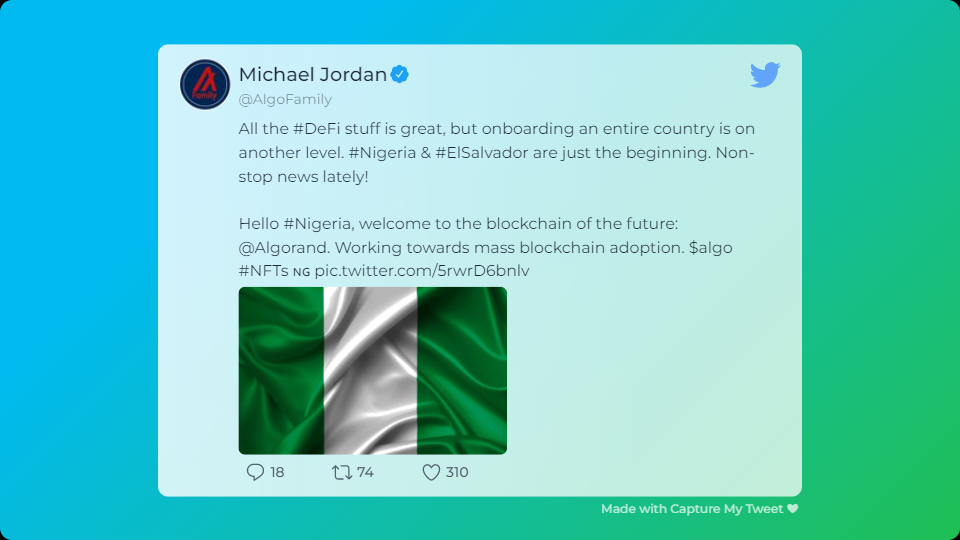 The move by the Government of Nigeria to leverage Algorand's technology is a massive endorsement of the platform. Last year, El Salvador signed a cooperation agreement with Koibanx. The latter proceeded to tap on Algorand, paving the way for El Salvadorians to access a global digital economy.
As BlockMagnates reported, Algorand has already partnered with FIFA ahead of the 2022 World Cup in Qatar.