Nexo, a regulated crypto lending and borrowing platform, is accused of trading against clients and charging a liquidation fee not captured in their terms and conditions.
Nexo Accused of Trading Against Clients
In a Twitter thread shared by an anonymous user, Nexo is alleged of illegally trading against clients. An insider reveals that once a user takes a loan against their collateral, entities from, or associated with Nexo, deliberately force down the collateral's price in CEXes, forcing liquidation.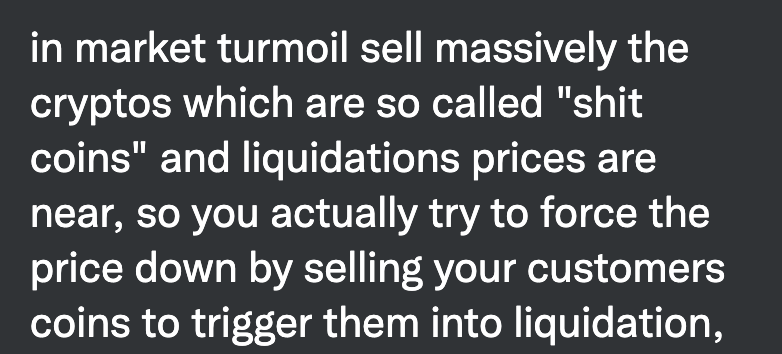 Nexo is one of the top crypto lending platforms that allow crypto holders to store, trade, and borrow loans against several assets, including Bitcoin, ETH, and other top liquid coins. Clients can lend their assets and receive high yields. At the same time, borrowers, like a typical bank, can take loans against their crypto assets.
However, since the loan is uncollateralized, there is a liquidation level. If the collateral price drops below, it will force Nexo to liquidate and charge an extra two percent liquidation fee.
This mechanism is designed purposely to protect the platform and its lending pool.
Forcing Liquidations
According to the whistleblower, the two percent liquidation fee is illegal. It is a scheme only to bolster the platform's revenue.
He added that every time Nexo "bullpost" via mainstream media and new user deposits funds, they get more firepower, allowing them to liquidate coins in CEXes, forcing liquidation.
Whenever they trade against their clients, Nexo reportedly earns "two folds". It is an illegal strategy that pays more than genuinely earning from interest rates differentials:
Nexo earns two-fold when it manipulates coins prices down to liquidate clients. First, Nexo earns the 2% liquidation penalty from users' collateral. Second, Nexo pays less interest because users have less collateral to their name.
Centralized Money Markets under Pressure
At a time of great distress in the broader cryptocurrency market, centralized money markets have been under pressure, with some facing liquidity crises. As BlockMagnates reports, Celsius Network and BlockFi are already struggling as the crypto market corrects.
That Nexo is being accused of illegally trading against its clients and heaping more pressure on the markets, causing capital outflows.
At press time, Nexo is yet to respond on these claims.