Data from Coinshares, a digital asset management firm providing financial services and products for professional investors, shows that institutions are likely their exiting Ethereum (ETH) positions.
Institutions Exiting their ETH Positions
According to a screen grab on Twitter on June 22, high-profile institutional holders of ETH are exiting the coin faster than in other smart contracting platforms, including Polkadot (DOT), Tron (TRX), and Cardano (ADA).
Weekly outflows from ETH stood at $69.9 million. During the same period, outflows in ADA, DOT, and TRX were at $0.4 million, $0.3 million, and $0.9 million, respectively.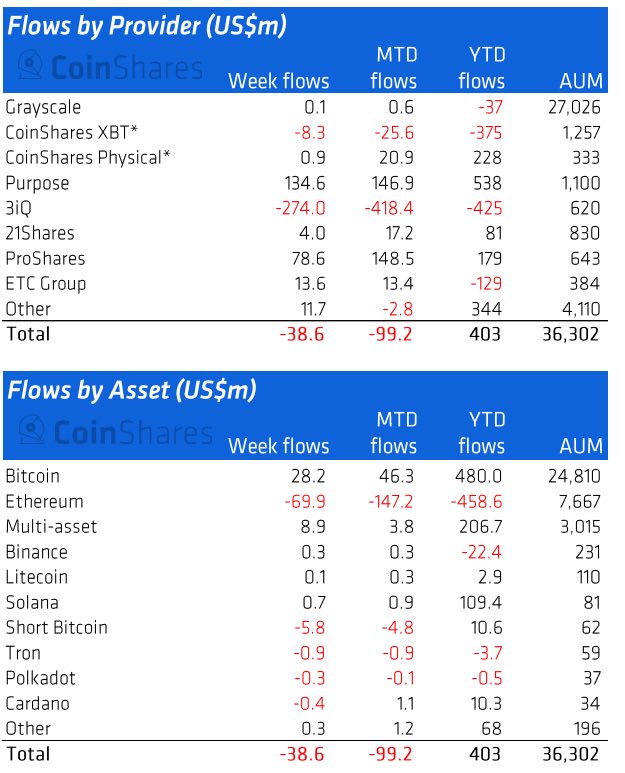 However, during this period, there was a notable increase in Bitcoin as inflows stood at $28.2 million.
Ethereum will migrate to Proof-of-Stake
The readjustment in institutional portfolios is ahead of a major upgrade in Ethereum and Cardano. Ethereum plans to install a proof-of-stake consensus algorithm, eliminating miners for validators.
At this time, the developers of the smart contracting network plan to institute on-chain scaling solutions like Sharding to enhance processing speeds further. Despite the drop in ETH prices over the past few months, the demand for block space is high and fees, though lower, are comparatively higher than in other platforms like Solana or Tron.
The decline in Ethereum's On-Chain activities
There have been no clear reason institutions are exiting Ethereum (ETH) and tokens of smart contracting platforms in general and adding their positions in Bitcoin. One possible reason could be the dump in activity during the crypto winter. The drop in coin valuation has capped DeFi, metaverse, gaming, and NFTs activities.
According to trackers, the total value locked (TVL) in DeFi across the board cratered below $100 billion. This is more than halvefrom the $253 billion peaks of mid-November 2021.
At the same time, NFTs' trading volumes have been decimated. Multi-million dollar NFTs like BAYC and CryptoPunks are trading at huge discounts as holders scramble to exit.
Postponement of the Merge
Moreover, the postponement of the Merger might by why institutions are shifting their capital elsewhere until the Merge happens.
Ethereum developers recently announced the Sepolia Beacon Chain testnet on June 20. Sepolia was launched in October 2021 and will replace the longest-running Ropsten testnet environment.