GameStop has released a Beta version of a non-custodial wallet compatible with Ethereum.
GameStop Beta Wallet for Ethereum
According to recent updates, the wallet provides a new way for users, irrespective of their crypto and blockchain experience, to explore the expansive Ethereum ecosystem while still retaining control of their assets. The mobile application is free to download and is available for all users interested in securely storing diverse assets, including non-fungible assets like NFTs.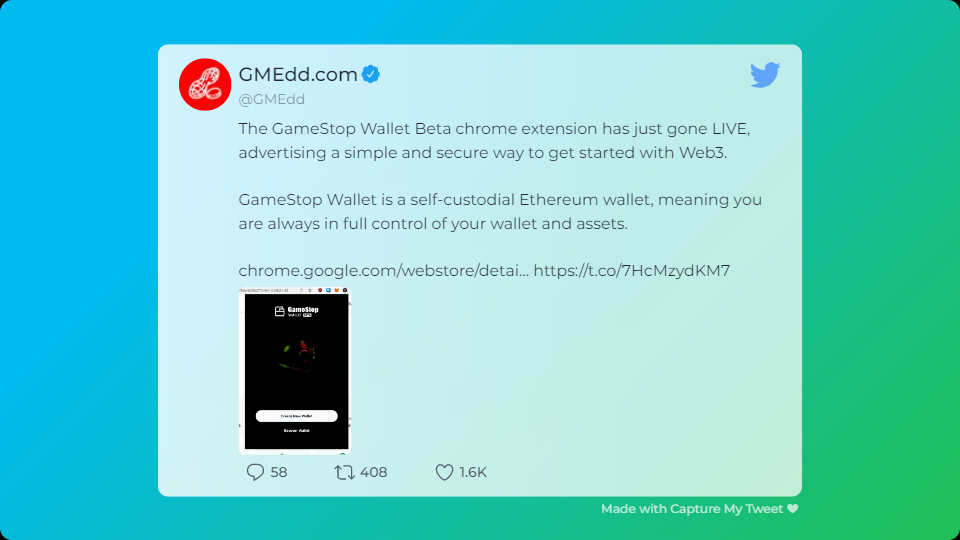 Notably, the wallet has been advertised as a simple and reliable portal for users to get started with crypto. It will feature a built-in DEX in partnership with Loopring, an Ethereum layer-2 platform with comparatively low trading fees. The integration of layer-2 is a chess move for GameStop. It comes as a welcomed relief for would-be gamers, most of whom are highly sensitive to shifts in transaction fees.
Integrating with ZK Rollups
Loopring uses ZK Rollups, an off-chain technique for bundling transactions and processing them before confirmation on the primary layer-1 without compromising security.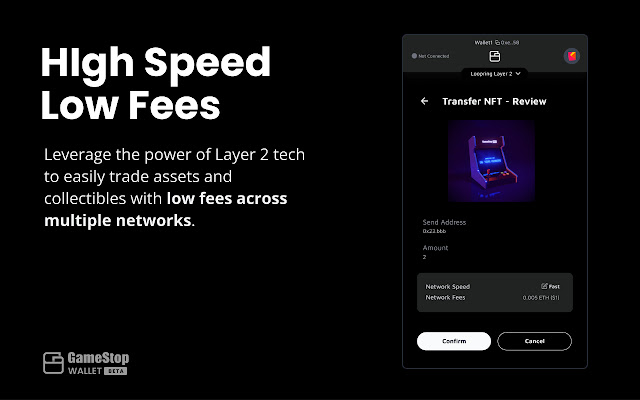 At the same time, considering the global nature of Ethereum, the wallet would be freely accessible to all users, regardless of their geographical location.
Besides crypto-to-crypto non-custodial swapping in layer-2 or between layer-1 and 2, the GameStop Beta Wallet allows users to buy ETH using Apple Pay, credit, or debit cards. Because of their partnership with Loopring, all fiat to crypto transactions would be relatively cheaper.
The GameStop NFT Marketplace
The wallet would also allow users to connect directly to the GameStop NFT marketplace.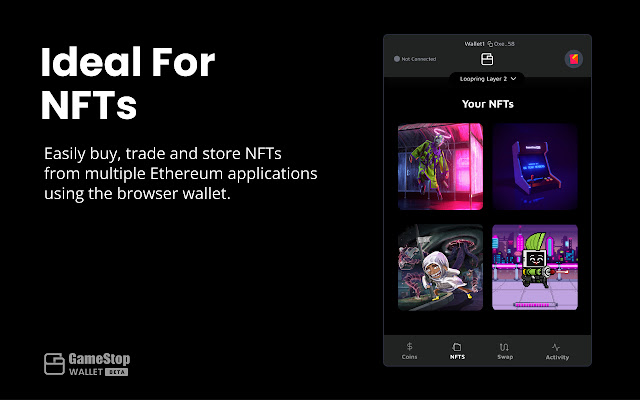 At the moment, the NFT marketplace has not been launched. However, the game-centric platform plans to launch in the days ahead in partnership with Immutable X, a dedicated Ethereum layer-2 platform for NFTs.
Ahead of this, GameStop and Immutable X announced a $100 million Builder program open for creators and builders to participate. The goal is to eventually allow GameStop to create a vibrant NFT marketplace for trading assets such as gaming skins and weapons. There has been no specific date for when the NFT marketplace will go live. However, the platform is currently dedicating its resources to user education.