Ethereum miners racked in more revenue than Bitcoin's for the fourth straight month in 2022, trackers reveal.
Bitcoin Miners under-performing Ethereum Miners in Revenue Earned
Bitcoin miners earned a cumulative revenue of $1.12 billion in April, down from around $1.21 billion in March 2022. This drop points to a possible reduction in transaction volumes in the world's most valuable network. Year-to-date, the total revenue received by BTC miners fell 31 percent from around $1.7 billion earned.
Meanwhile, Ethereum miners have consistently outperformed Bitcoin and other crypto miners' revenue streams. For instance, in April, ETH miners received $1.39 billion in revenue, up three percent from March, when the network rewarded $1.34 billion of ETH to participants. However, while ETH mining revenue rose from March, it also dropped year-to-date, sliding from $1.68 billion, representing a 17 percent slide.

The drop in miner revenue could be attributed to falling crypto prices. In the past six months, Bitcoin and Ethereum prices plunged almost 50 percent, falling from peaks of around $69k and $4.5k, respectively. Therefore, in fiat value, revenue drop reflects re-evaluation of coins.
Ethereum and Bitcoin Serve Crypto Differently
Bitcoin and Ethereum are legacy, first-generation networks heavily reliant on miners for security, decentralization, and transaction confirmation. Over the years, Bitcoin has demonstrated its high reliability and cost efficiency as a dependable transactional layer. The layer is used for moving value without intermediaries.
Although the coin was designed to be internet money, it has evolved to be a store of value and hogged by millions as a tool to fight against raging inflation.
As per recent news, the demand for BTC has been surging, forcing city governments in Argentina and the United States to trial BTC mining, citing the benefits of the coin as a means of value preservation. On the other hand, Ethereum is an on-demand, active smart contracting network for deploying smart contracts.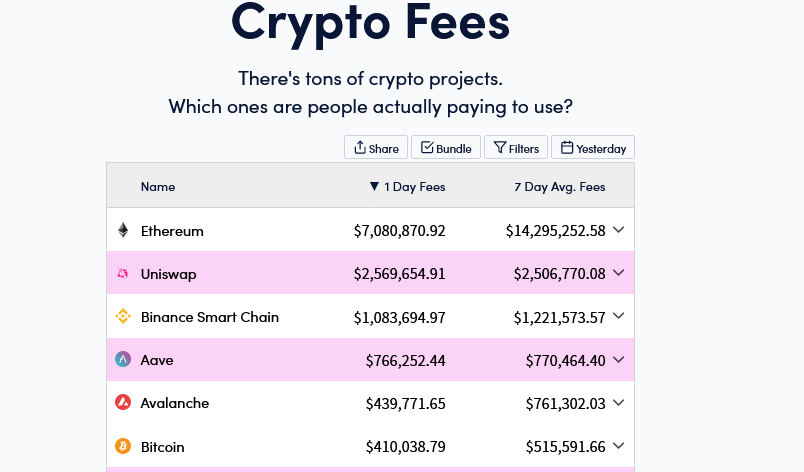 In both networks, transactors pay a network fee for every transaction made. Transaction fees in Ethereum have also been higher than Bitcoin's. This is because of the relatively high demand for block space despite the implementation of EIP-1559.
This London Hard fork changed the platform's auctioning mechanism but has yet to relieve network users satisfactorily. Ethereum, unlike Bitcoin, allows for smart contract deployment. Because of its first-mover advantage, it has evolved to be the home of DeFi and NFTs.