Following the ecosystem-damaging crash of LUNA and UST, an analysis now reveals that the LUNA Foundation Guard (LFG) might have allowed venture capitalists and insiders to cash out their investment when UST had it peg with the USD intact at $1.
LFG was the non-profit organization tasked with helping grow the Terra ecosystem. It held reserves of among many assets, BTC, LUNA, BNB, and AVAX. At its peak, LUNA was one of the most valuable DeFi tokens commanding over $32 billion in market cap.
How LFG's Liquidated its Bitcoin Reserves
According to an analysis by Elliptic, LFG allegedly sold most of its BTC reserves between May 9 and 10 to unknown market makers in a desperate attempt to restore the UST peg to no avail.
However, what's raising eyebrows, commentators add, is the failure of LFG to release evidence of their cash flow. Receivers of LFG's BTC were possibly insiders and venture capitalists scrambling for exits.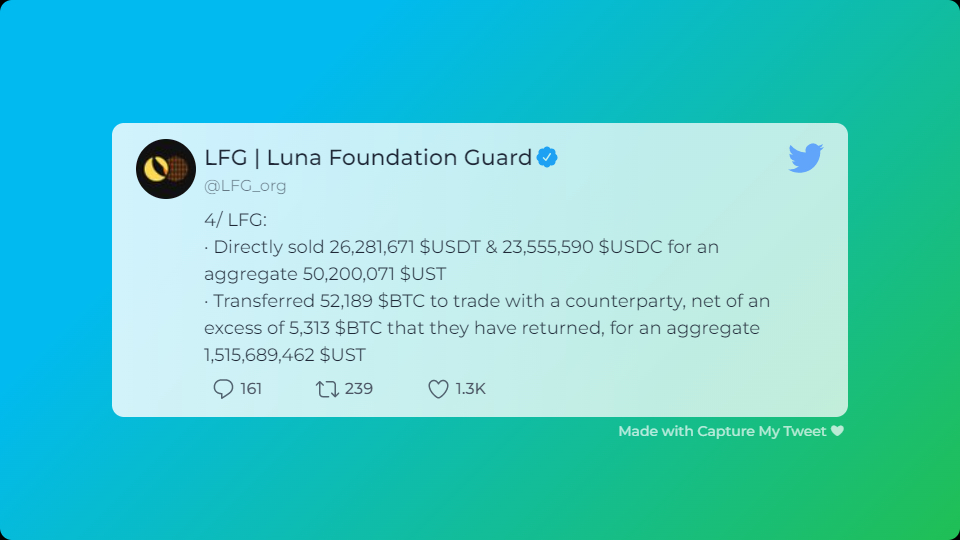 Moreover, further commentary from LFG on May 16 divulged that they had "transferred 52,189 BTC to trade with a counterparty, net of an excess of 5,313 $BTC that they have returned, for an aggregate 1,515,689,462 UST".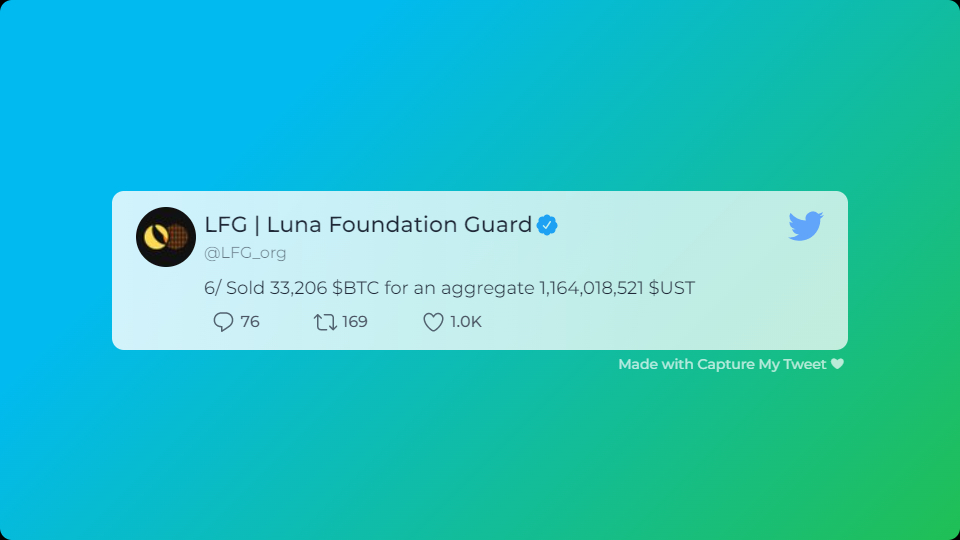 The BTC liquidated at this point, that is, 52,189 less 5313 BTC, sold for over 1.5 billion UST, were liquidated at a spot rate of approximately $32.33k. The foundation further on dump "33,206 BTC for an aggregate 1,164,018,521 UST", according to a tweet on May 16.
Were Insiders and Venture Capitalists Exiting?
Critics have their eyes on the last traction on May 16, asserting that given the BTC—UST swap at that rate, LFG sold BTC at $35054.46. The problem is that, at the time when this transaction was being made, Bitcoin was within the $29.7k and $34.2k price zone, far below the BTC liquidation price. Going by these rates, it appears that purchases of BTC had a much higher conversion rate to reflect the spot rates of UST, which by that time had de-pegged, fluctuating between $0.996 and $0.62 on May 9 and 10. Subsequently, at those higher rates, receivers redeemed at a better rate, close to $1, as LFG bought their coins.
A victim in Singapore has already filed a police report asking authorities to freeze Do Kwon's assets.