After pushback from holders, Crypto.com has backtracked on its earlier unpopular decision to stop CRO staking rewards on its debit cards, as per a tweet by Kris Marszalek, the CEO, on May 3.
The blockchain firm is responding to community feedback less than a day after being accused of "rugging" its base of loyal clients.
Crypto.com said their earlier decision was "difficult to make" though it was the "best move" as they aptly looked for alternative incentivization options. Subsequently, they also gave a three-month notice, announcing the end of their staking rewards.
The Community Backlash after CRO Rewards Changes
However, besides reducing CRO rewards on their visa cards, it also placed caps on the maximum amounts of CRO a user could earn when they spend.
As laid out in their previous communication, Crypto.com had eliminated rewards on Midnight blue and Ruby steel cards for zero stakes.
At the same time, Ruby steel cards would earn a meager 0.5 percent reward for active stakes.
White and Frosted gold would have received a dismal one percent reward for no stakes and a just three percent reward for active stakes.
On the other hand, Royal Indigo and Jade green cards would have received 0.5 percent rewards for zeros stakes and 1.5 percent for active stakes.
It also seemed like Crypto.com was encouraging users to use its Obsidian card, whose rewards had been reduced to two percent for no stakes and a five percent run reward for active stakes.
New Crypto.com Staking Rate Changes
In response to the harsh community feedback on their sudden decision to eliminate staking rewards and slash earnings from gains, the very reason that kept Crypto.com alive and vibrant, Kris said they are adopting a more balanced approach.
Instead of eliminating staking earn rates completely, it shall offer an eight percent APY for Obsidian, Icy White, and Frosted Rose Gold cardholders. On the other hand, Royal Indigo and Jade Green cardholders will receive a four percent APY.
CRO Dumps 40%, Holders Confident
CRO prices have recovered slightly, according to trackers.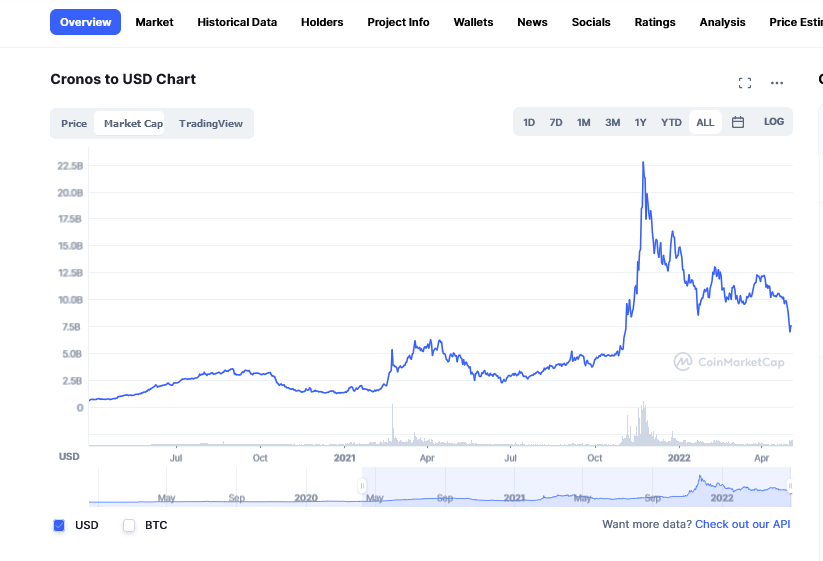 However, it remains under significant pressure following the strong sell-off in the past two days. The coin is down 40 percent from its April 2022 peaks.
Still, CRO holders are bullish, expecting a rebound in the weeks ahead.