On Tuesday, shares of Coinbase, COIN, slumped 19.5 percent to register the single largest day drop in the company's history following an earnings call that showed that the U.S.-based exchange had missed analysts' estimates on revenue with a declining client base.
Coinbase Misses Revenue Estimates
Coinbase is a public traded company listed on NASDAQ and is one of the largest cryptocurrency exchanges in the world.
According to earnings data, Coinbase generated $1.17 billion in revenue in the first quarter of 2021, a decline from $2.4 billion registered in Q4 2021.
At the same time, the exchange's client base shrunk to 9.2 million, down from the estimated 9.5 million. Combined, the total trading volumes posted by the regulated ramp also dropped 44 percent to $309 million in Q1 2022.
As of May 11, COIN is trading at $72.99 per share, down 12 percent on the last trading day.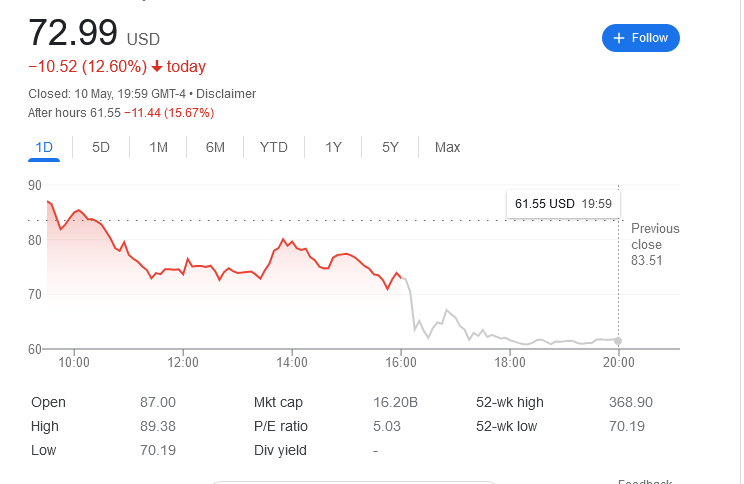 Coinbase expects further declines in the second quarter of the year, citing rough market conditions. In six months, the price of Bitcoin has more than halved after peaking at over $69k in some exchanges. The drop in crypto asset valuations has harmed Coinbase, forcing users to steer clear from trading, starving the exchange of revenue.
Nonetheless, the exchange remains bullish, saying they remain focused on building great product experiences and user base despite market downturns. Commenting, Alesia Haas, the Chief Financial Officer (CFO), said:
We believe with our balance sheet resources; we are well-capitalized assisting our operations and will continue to make our focus on building great product experiences, building up our user base, and getting ready for the return of the market.
Coinbase to Diversify Income Streams
In light of this development, Coinbase revealed that it plans to diversify revenue streams. The drop in Q1 2022 revenue is attributed to their slashing of trading fees by 56 percent.
Coinbase has a subscription model where subscribers would trade without paying fees. In Q1 2022, this netted the exchange $152 million in revenue. The exchange plans to offer futures and derivatives products and prime brokerage offerings in the days ahead.
Coinbase is not the only technology and crypto company affected by the market-wide correction. Others, including Riot Blockchain and PayPal, posted double-digit losses amid a biting bear market earlier this week.