A recent report indicates that operators switched off as much as 1,000 MW of Bitcoin mining load following a conservation request by the Electric Reliability Council of Texas (ERCOT) to conserve energy for the grid.
ERCOT, which operates Texas' electricity grid and is in charge of supplying over 25 million citizens in the vast state, had requested Bitcoin mining farms to reduce their energy load. This was a conservatory step in expectation of a heat wave that the grid operator said could push their energy requirement to a breaking point.
10,000 MW of Bitcoin Mining Load Withdrawn
According to Lee Bratcher, Bitcoin mining farms, whose gear is energy-intensive and typically consumes less than five percent of the state's total generation, responded, and 1,000 MW of Bitcoin mining load was released to other uses.
In their assessment, most Bitcoin mining farms operating at an "industrial scale" powered off their gear, a relief considering dropping Bitcoin prices that have significantly impacted their revenue streams. ERCOT has revealed that the load consumed by Bitcoin miners has now been availed to retail and commercial use.
There are over 1,000 megawatts worth of Bitcoin mining load that responded to ERCOTs conservation request by turning off their machines to conserve energy for the grid. This represents nearly all industrial scale Bitcoin mining load in Texas and allows for over 1% of total grid capacity to be pushed back onto the grid for retail and commercial use.
Bitcoin Energy Consumption Dropping
According to trackers, the total Bitcoin energy requirement has been dropping in the past few weeks. It peaked in June when the total energy required to power Bitcoin spiked to 204 TWh. The total energy requirement for Bitcoin is down to 132 TWh and likely to drop even further if Bitcoin prices crater below June 2022 lows.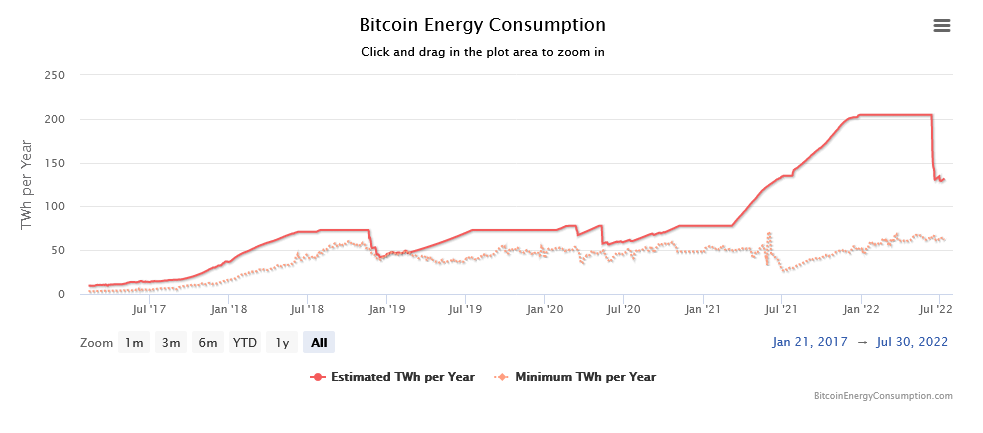 At this level, it is estimated that Bitcoin consumes the same amount of energy as the whole of Argentina. All the same, considering the conservation awareness of Bitcoin miners, most of their energy is from renewable sources like hydro and solar. Following China's ban on Bitcoin mining, the U.S., especially Texas, has become the hub of crypto mining operations.