According to a coin tracker, there is no cryptocurrency project with over $10 million in average daily volume that is outperforming the USD as of June 17, 2022.
The collapse of Crypto Projects Impact Valuation
Most crypto projects are already down over 85 percent from all-time highs and at risk of sinking further following worrying uncertainty in the broader cryptocurrency and stock market.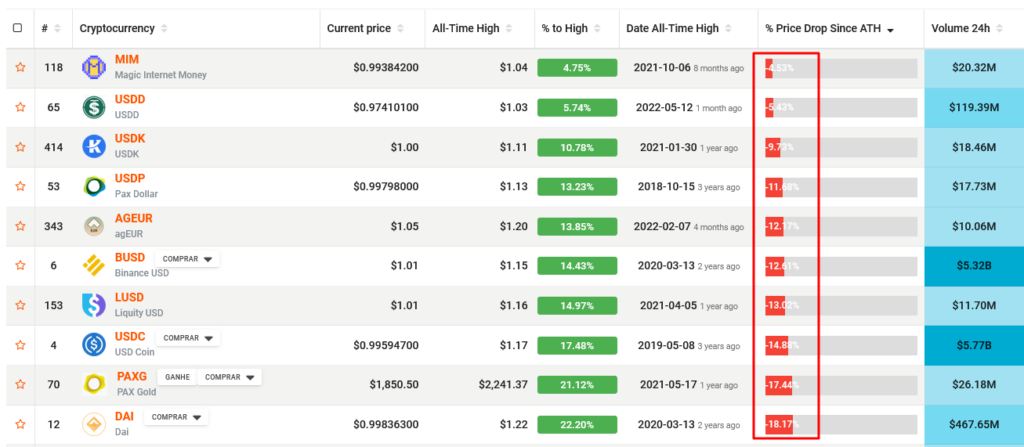 Collapse and fear of bankruptcy and illiquidity are rife following the crash of the UST algorithmic stablecoin and recent developments around the crypto money market provider, Celsius Network. As a result, market participants are alert to rumors swirling several crypto venture capitals under duress, including Three Arrows Capital and Sequoia Capital.
Cryptocurrencies Falling
The total cryptocurrency market valuation currently stands at $909 billion, more than half of all-time highs registered at $2.7 trillion in early November 2021.
During this time, the Bitcoin market cap stood at over $1.2 trillion, a figure larger than the current total market cap. In the last six months, Bitcoin has corrected by over 65 percent to change hands at $20.1k, at this week's lows, dragging the rest of the cryptocurrency market.
Ethereum, the second most valuable crypto project, fell below 2017 peaks and is currently trading at around $1.1k. Other top crypto projects in the top 100, including Cardano (ADA), Solana (SOL), and Ripple (XRP), are also under immense selling pressure, caving from their peaks and registering deep losses exceeding 75 percent.
Stablecoins Not Spared
The wave of crypto liquidation has also impacted stablecoins. Ideally, stablecoins tracking the USD should be stable regardless of market conditions. However, data indicate that stablecoins have been volatile, with most following the market's broader trends, sometimes de-pegging and deviating by over 10 percent.
To illustrate, DAI, the algorithmic stablecoin by MakerDAO on Ethereum, dropped from $1.22 against the USD and is changing hands at $0.9983. Meanwhile, BUSD trades at $1.01, down from $1.15. USDT is at $0.9964, down from $1.32.
Solid Projects will survive the winter
Analysts say interventions by central banks and governments to wean financial markets from free money explain the painful crashing.
As Block Magnates report, Mark Cuban expects projects with valid business models to survive this winter.