Representative Elissa Slotkin, a Democratic member of Congress from Michigan, and Dusty Johnson, a Republican Congress member from South Dakota, have sponsored a bill that will require members of Congress and their kin to divulge any crypto holdings exceeding $1k.
The Cryptocurrency Accountability Act
The H.R.7862 Cryptocurrency Accountability Act will mandate a Congress member to make public any sale, purchase, or exchange of all digital assets exceeding $1k.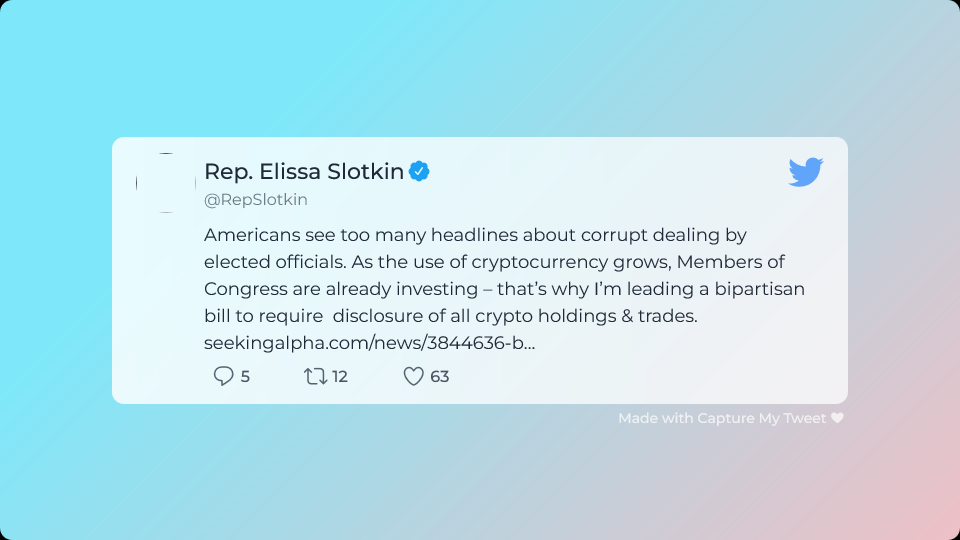 This bill, if approved, will also require that the lawmaker's spouse and dependent children to divulge any crypto-related transaction, trade, or transfer.
A brief description, the date, and category of value of any purchase, sale, or exchange in cryptocurrency by the Member or spouse or dependent child of the Member during the preceding calendar year which exceeds $1,000.
The bill defines cryptocurrency as any digital asset representing value whose transactions are recorded on a blockchain. Leading cryptocurrencies, including Bitcoin, Ethereum, NFTs, and DeFi tokens, fall under this category.
As part of the bill's requirements, Congress crypto holders would be required to file the type of cryptocurrency in their possession and its equivalent amount in USD terms for purchase or transaction made within a given year. If the lawmaker fails to make public these details, they shall receive a fine of $500 or five percent of the total value of their crypto holdings, whichever is higher.
However, should the Congress member falsify details on their crypto transaction, it shall qualify the Attorney General to bring a civil action against them. If found culpable and in violation of the law, the lawmaker shall be penalized with a $66k fine or five percent of the value of their crypto stash, whichever is higher.
The strict, bipartisan bill is still at a preliminary stage. If approved, the bill's content will be binding and place strict disclosure rules demanding Congress members supportive of cryptocurrency to make public their holdings.
Over $1.8 million of Crypto Assets Traded by U.S. Congress Members
According to a recent report, U.S. Congress members traded approximately $1.8 million of digital assets from early 2021.
The research firm discovered that 21 members of Congress and their kin were engaged in trading cryptocurrencies, crypto products, and stocks related to crypto companies.
This finding comes at the back of increasing concerns about the large number of lawmakers who kept trading securities (including digital assets) while still in office.