The crypto winter has seen the number of Bitcoin millionaires drop by over 75 percent to data streams from BitInfoCharts.
BTC Millionaires Drop
As of July 1, there were 25,410 Bitcoin millionaires with at least $1 million worth of the coin. While relatively impressive, the number of BTC millionaires represents a 75 percent drop from those registered in November 2021.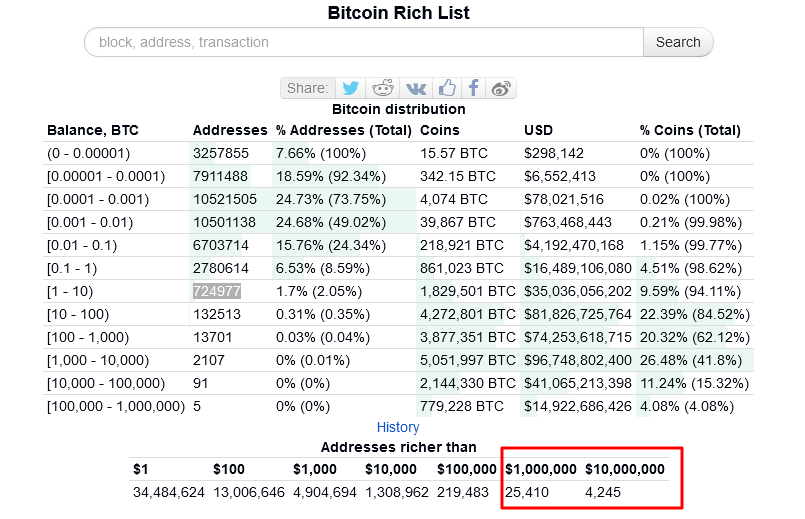 When BTC peaked in the fourth quarter of 2021, there were 108,886 unique BTC addresses with at least $1 million worth of BTC. Therefore, at spot rates when prices are hovering at around $19.1k, the crypto winter has demoted over 80k addresses, relegating them from the millionaire category. This decline means there are 75 percent fewer paper BTC millionaires now than in late 2021, highlighting how brutal the crypto winter has been over the past few months.
The market-wide correction of crypto prices has also significantly impacted BTC whales reading from existing data. Seven months ago, in November 2021, when prices soared to over $69k, there were 10,587 BTC addresses with coins worth over $10 million.
Fast-forward to late June 2021, holders with at least $10 million worth of the asset stand at 4,245. Most of them, it appears, have been delegated to the millionaire category with assets above $1 million.
Bitcoin Whole Coiners Increase
Still, a notable observation during this time is the rising number of whole coiners. With decreasing spot rates, the number of holders with at least 1 BTC rose to over 13k.
Thus far, statistics from coin trackers show that there are over 724k addresses with between one and 10 BTC. While there has been a sharp contraction in the millionaire category, there is a possible accumulation in lower tiers.
FED Rate Hike will Force Crypto Prices Lower
Bitcoin is under pressure at spot rates, dropping below the $20k and drawing more concerns amongst traders and investors.
The Federal Reserve (FED) plans to hike interest rates to curb rising inflation could negatively impact the stock and crypto markets, forcing prices lower. As BTC plunge, the number of millionaires would drop even lower.