Elon Musk and Tesla's once sumptuous Bitcoin capital gains have been reversed at spot rates of slightly over $28k on May 12, 2022.
Tesla in Red after BTC Plunges by over 50%
In early 2021, the electric car manufacturer sent shockwaves in the tech and crypto worlds when it declared support for Bitcoin, acquiring 46,700 BTC worth $1.5 billion at an average price of $32.5k.
Weeks later, the price of Bitcoin soared to over $58k, a move that more than doubled their initial investment, earning Tesla over $1.5 billion in profits. This gain was equivalent to Tesla's pre-tax profit registered in Q4 2021, excluding regulatory credits.
Although Tesla said the decision to invest in Bitcoin, notoriously known for its price fluctuation, was an experiment, it initially paid off. The technology company even sold a tenth of its BTC stash at a profit to "test its liquidity".
However, under regulatory pressure and calls from environmentalists, Tesla was forced to shelve their plans to accept payments in crypto a few weeks after acquiring BTC.
While the decision to reverse their stance on accepting BTC as a medium of exchange outside the USD, the move didn't dent crypto. Prices continued chugging higher, reaching highs of $69k in late 2021.
Since then, there has been a change of fortunes. Bitcoin has been hurtling down the hill and unwinding gains made in the bull run of 2020 and 2021.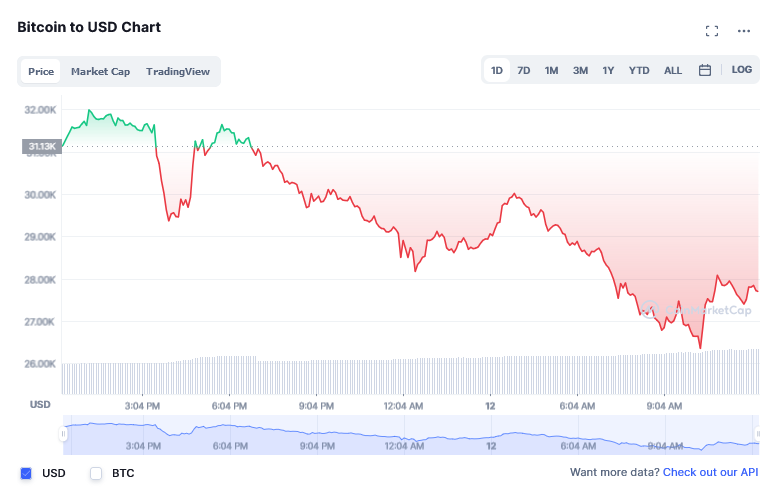 By early May 2022, the coin's valuation had more than halved—and showed no signs of slowing down. According to trackers, BTC is currently changing hands at $28k, more than $4.5k below Tesla's acquisition price, fully reversing gains made in the bull run of 2021.
Tesla Could Loss over $500 Million if BTC Falls Below $20k
Although it could be interpreted that Tesla is in red following the market crash, the tech company has been writing down its holdings as stipulated by the law.
For instance, by December 31, 2021, it has written down part of its holding, pushing down its BTC acquisition price to $30k. This is because Bitcoin, under U.S. laws, is classified as "an indefinite-lived intangible asset".
As such, if prices during the quarter fall below the acquisition price, there must be an impairment or write-down charge. That's precisely what Tesla has been doing, and expect more impairment in Q2 2022. Any fall below $20k could see Tesla post a $500 million loss on its BTC holdings.