Embattled North Carolina Republican Congressman, Madison Cawthorn, is in trouble for allegedly participating in a crypto pump-and-dump scheme and insider trading, violating the Stop Trading on Congressional Knowledge (STOCK) Act.
Insider Trading and Crypto Pump-and-Dump Scheme
According to reports, Madison has been implicated for, on multiple occasions, promoting the Let's Go Brandon (LGB) coin, the native token of a cryptocurrency project he supports, on his political campaign trails and social media.
His comments came a day before Brandon Brown, a NASCAR Driver, said the LGB would be his primary sponsor in the 2022 season. Notably, in his announcement, Brandon featured comments from the hedge fund manager who was, according to reports, had been pictured with the Congressman a few hours earlier.
Following the Brandon and LGB partnership, the coin surged 75 percent, pushing the total market capitalization of the project to over $570 million. Reports claim that Madison had acquired a significant stake in the cryptocurrency a day before the mega rally. However, there are no official documents disclosing his cryptocurrency holdings. A U.S. lawmaker with over $1k of crypto must report their stash for regulatory purposes.
Observers: Madison must be Investigated
Observers now claim that Madison might have acted on insider information before the official announcement, which is why LGB pumped, violating federal insider trading laws. This, according to lobbyists, is illegal.
Therefore, since Madison has publicly stated before that he is behind the LGB project, knowingly purchased LGB, and posted his "moon" comment on Instagram, his actions warrant investigation from the Department of Justice (DoJ) and the Securities and Exchange Commission (SEC). Investigations, critics are adamant, must be initiated immediately regardless of whether LGB is classified as a security or a utility.
The LGB coin is now worthless.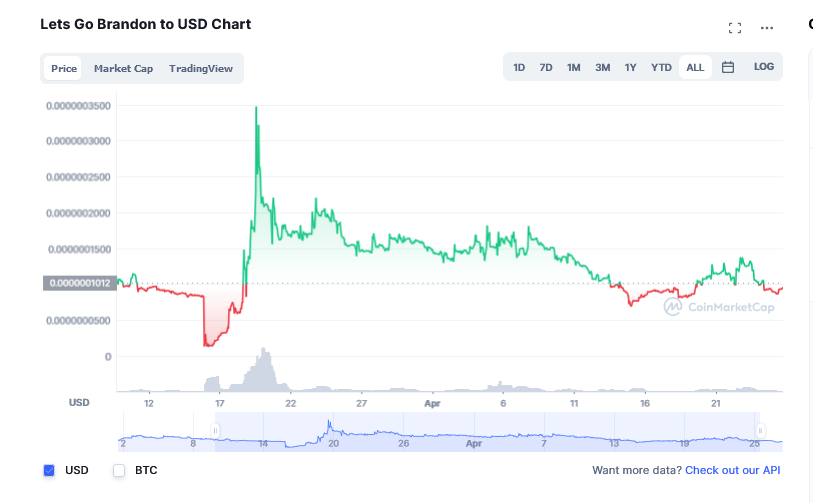 It is why observers think the project was nothing more than a pump and dump scheme executed by a congressman and his partners on U.S. soil.
TSA Confiscates Madison's Gun
Madison seems to stir controversy. Earlier reports on April 26 indicated that the Transportation Security Administration (TSA) confiscated the Congressman when he allegedly tried to bring a handgun past security at the Charlotte Douglas International Airport.