In what would be a historic moment for DeFi and Ethereum, MakerDAO is voting on a proposal that will see the first brick and mortar bank in the U.S. access a $100 million line of credit from the decentralized money market, an update on July 4 reveals.
MakerDAO and Huntingdon Valley Bank on the Verge of Making History
According to MakerDAO, the community is voting on a proposal, RWA-009, that, if approved, will see Huntingdon Valley Bank receive a 100 million DAI debt ceiling participation facility through a new setup, the Delaware Statutory Trust.
In this proposal, funds will be channeled to the bank in DAI with their assets in collateral. Afterward, DAI is converted to USD and distributed to borrowers via the bank's loaning system.
The first collateral integration from a US-based bank in the DeFi ecosystem is getting closer. The Maker Governance votes to add RWA-009, a 100 million DAI debt ceiling participation facility proposed by the Huntingdon Valley Bank, as a new collateral type in the Maker Protocol.
Using DeFi Funds to Grow Real-World Businesses
According to the Pennsylvania Chartered Bank, founded in 1871, funds received from users via MakerDAO will be used to support real-world businesses, a significant step that highlights the growing significance of DeFi and its impact on the physical world.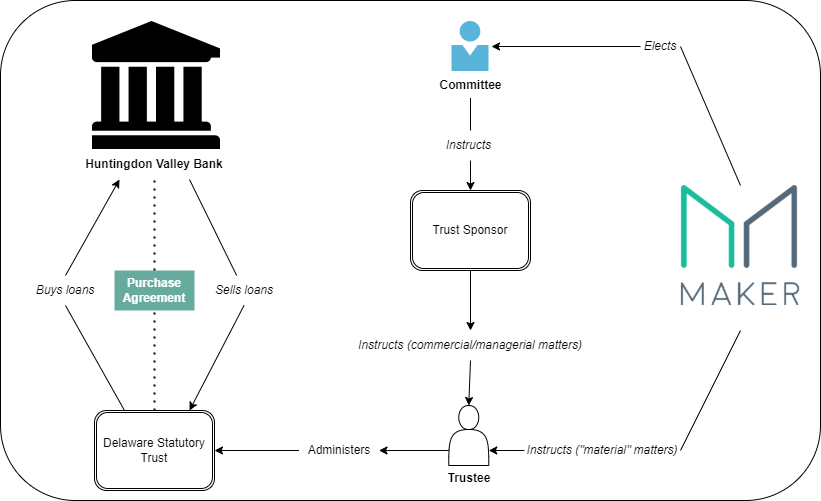 The RWA-009 proposes a legal structure that will see the creation of the Delaware Statutory Trust. Through this trust, the bank will create the MakerDAO Bank Participation Trust that allows them to enter into a master purchasing agreement with the decentralized money market.
The possible integration and MakerDAO extending a loan to Huntingdon Valley Bank cannot be dismissed. The regulated bank has a solid financial base with assets exceeding $550 million. By the end of 2021, it had issued over $375 million in loans.
Their request to receive $100 million in DAI in a line of credit that can rise to $1 billion in the next 12 months would be massively beneficial for MakerDAO and further raise the profile of DeFi. What's notably important is that the current legal structure of the RWA-009 proposal and the master agreement is that more banks can be incorporated in the future.