Grayscale, a subsidiary of the Digital Currency Group (DCG) and a cryptocurrency investment fund, will reportedly sue the U.S. Securities and Exchange Commission (SEC) come July 6 if their Bitcoin ETF application is not approved.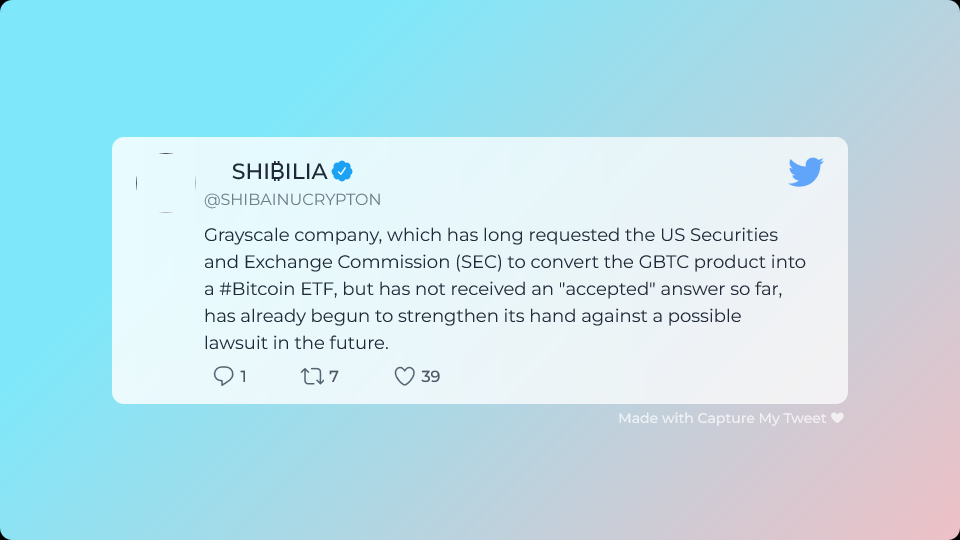 In the ongoing 2022 Consensus event in Austin, Texas, there have been discussions on whether the U.S. SEC would eventually approve a Bitcoin spot Exchange Traded Fund (ETF.
Confidence ahead of the July 6 Deadline
Despite the regulator's stance and repeated rejection of a Bitcoin derivative product that directly tracks the performance of Bitcoin, David LaValle, the Head of Global ETF at Grayscale, and Matt Hougan, the Chief Investment Officer at Bitwise, are confident.
Both firms are waiting for the SEC to approve their Bitcoin ETF approvals.
While Bitwise is set to hear the response from the regulator on June 29, Grayscale must wait until July 6 to get word from the SEC on whether they can convert their Bitcoin Trust into an ETF. The Grayscale Bitcoin Trust (GBTC) is the world's largest publicly traded Bitcoin fund, with $19.2 billion of Assets under Management (AUM).

Despite Grayscale's confidence, they are bolstering its legal team. The asset management firm recently hired Donald B. Verrilli Jr, a top litigator with experience working with the U.S. government, to their fold. The lawyer has an impressive resume. He served as a solicitor general from 2011 to 2016 under the Obama administration.
From Grayscale's position, converting their Bitcoin Trust to an ETF seems to be one of their top priorities that's now a do-or-die affair. One main benefit of conversion is that it will unlock the $8 billion currently held by the trust, significantly boosting liquidity and, most importantly, broadening access to Bitcoin. There will also be better investor protection if this trust becomes a Bitcoin spot ETF.
Will the SEC Greenlight the Conversion of the Bitcoin Trust to an ETF?
The SEC is rigorous in its application assessment and has yet to approve a Bitcoin spot ETF. The agency has only approved a Bitcoin Futures ETF, a move Grayscale said is discriminatory.
David LaValle believes in positive progression and is confident the SEC will approve their application before the July 6 deadline. His position is also supported by Grayscale's CEO, Michael Sonnenshein.
Michael believes SEC's perception of Bitcoin has been gradually changing, which is bullish for the industry.