The fall of LUNA & UST rekt an uncountable number of people. This is the worst any crypto investor has ever seen. A well-planned Ponzi scheme was the Terra ecosystem. People lost their life savings in a span of 2 days. LUNA/UST is dusted. We don't know whom to blame, we just know people gave up on their life because they lost every penny they had to live. 
A subsequent set of events will unfold in the upcoming days because of the fallback of UST & LUNA. Let's get into the series:
Blizz Finance
One unfortunate event that has already unfolded is on Blizz Finance. BlizzFinance is the only protocol that accepts $UST as collateral and allows you to borrow up to 20 different assets on Avalanche.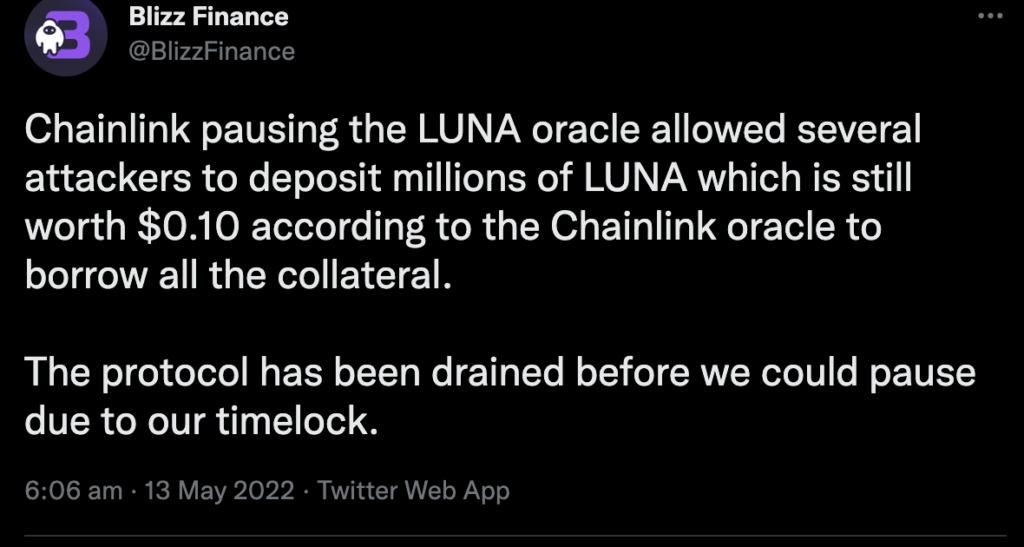 Blizz Finance uses the Chainlink oracle as a price feed to value collateral. Chainlink is a blockchain that facilitates hybrid smart contracts to power decentralized applications. After the crash, while the Terra ecosystem was on hold, ChainLink hardcoded the minimum price of LUNA at $0.10 and paused the price updates for LUNA.. Even though the price dropped below this, anyone was able to buy up a large amount of LUNA at market price, use it as collateral and borrow funds from the Blizz Finance platform. A total of $8.3 million was drained from Blizz Finance due to the negligence of both Chainlink & Blizz Finance.
Venus Protocol
Venus is a decentralized algorithmic money market protocol on BNB Chain. Same as Blizz Finance, Venus also gets its price feeds from Chainlink oracles which are where the problems began. Chainlink suspended the price feed.  Upon this desyncing event, it was discovered that 2 accounts had suspiciously deposited a sum of 230,000,000 LUNA valued at over $24,000,000. Assets were borrowed totaling around $13,500,000. Venus Protocol lost $11M due to this negligence. But, the company took early action too.
Binance's LUNA investment
In 2018, Binance invested $3 million into the Terra ecosystem receiving 15 million Luna tokens. When LUNA reached an ATH, this investment was worth $1.6 Billion. But due to the fall of LUNA and UST, the value has plummeted to just $3400. 
Binance also received around $10.4 million worth of UST as staking rewards. But as UST lost its peg, the UST is worth nothing. 
You can view these stats from this link: https://finder.terra.money/mainnet/address/terra19scdgmvhj5rl7f66n06z5pescf0gmeysw6pjrz 
Civil and Criminal lawsuit against Do Kwon
$UST and $LUNA Korean investors have sued Do for defrauding them in both civil and criminal court. They also requested that his assets be temporarily seized (frozen). LKB & Partners, a law firm, is representing them. One of the lawyers representing the lawsuit (LKB & Partners) appears to have lost money in $LUNA as well. Following the collapse, Terra's legal team also quit.
Do Kwon pushes the hard fork of Terra
Hard fork is the event of splitting from the original chain and operating on an entirely new chain under new protocols and rules. In a tweet summarizing the proposal, Kwon suggested that the "old" chain be referred to as Terra Classic going forward. The existing LUNA cryptocurrency (which plunged from an all-time high of $116 to $0.0001733) would be renamed Luna Classic or LUNC. The vote will remain open for a week and will need a quorum of 40% to pass. View the votes here: https://station.terra.money/proposal/1623
At the time of writing, 35 validators voted for "Yes" as shown below:
And, 5 validators voted for "No with Veto" as shown below:
What does the community think about the fork?
The Terra and crypto community seems to feel the opposite. In a forum poll with nearly 7,000 votes so far, 91% voted against the proposal to hard fork the chain, with many demanding "No fork" in the comments section. This poll does not require one to hold LUNA in order to vote.
Many people are demanding to burn the tokens instead of the hard fork.
If the "Hard fork" proposal is passed successfully, a new chain & network will be born according to Do Kwon. 
What do cryptocurrency CEOs have to say about the Luna Terra crash?
Dogecoin Founder: Every time he reads about the Terra and Luna stablecoin crash, Billy Markus, the developer of meme coin Doge, is "triggered." In the Twitter thread, Markus wrote, "It's quite simply the stupidest thing I have ever seen in my life." Markus labeled the Terra and Luna founders "tech bro hubris" and "degenerate gamblers" in a series of tweets.
Bill Ackman: The prominent American investor and strategist Bill Ackman has identified Luna and Terra stablecoins as a threat to the entire crypto industry. "The crypto industry should self-regulate away other crypto projects with no underlying business models before crippling regulation shuts down the good and the bad," he said. "Hyping tokens that are not supported by businesses that create value will destroy the entire crypto industry. " He inquired, "Why and/or where am I wrong?"