CEL, the native token of the Celsius Network, is making moves, according to trackers on June 15. Against all odds, the coin rose 100 percent on June 14 before retracing.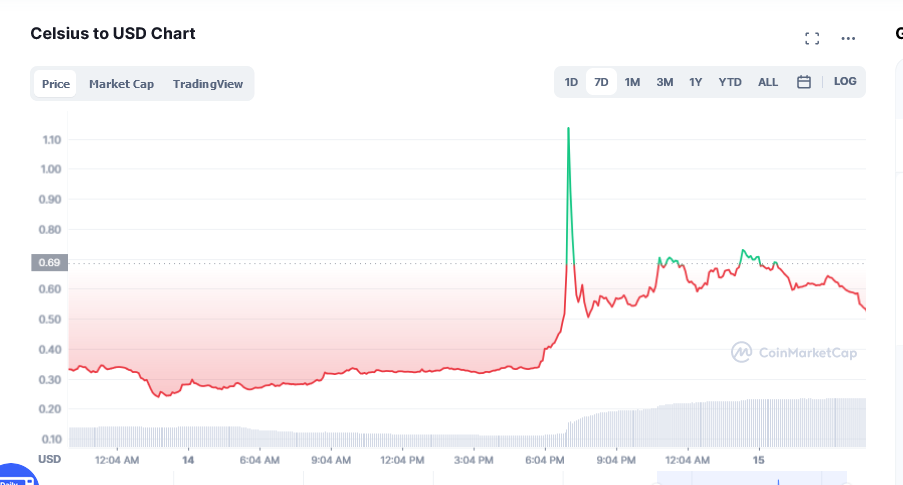 Presently, CEL is up a massive 45 percent against the USDT and noticeably outperforming Bitcoin and Ethereum in the past 24 hours.
The Celsius Network's Liquidity Crisis
There are concerns that the "fall" of the Celsius Network would have a contagion effect and further accelerate the sell-off in the coming days. Thus far, the crypto market has shed over $500 billion and continues to dump most assets in the "fire sale" mode.
The Celsius Network operates as a regulated financial platform focused on DeFi. It operates a crypto lending platform, offering above-rate yields on leading digital assets like Bitcoin, Ethereum, and an array of stablecoins.
Therefore, it is a feat that CEL is outperforming less than 48 hours after announcing that it was pausing withdrawals in the face of harsh market conditions.
Among the many big players backing the platform includes one of the biggest pension funds in Canada that invested millions in the platform during their funding round. Though analysts view it as a digital crypto bank, Celsius Network operates more like a hedge fund.
Withdrawal Requests Deluge
On June 14, Celsius Network said it would indefinitely suspend withdrawals, citing market conditions. However, rumors had swirled that the platform was facing a liquidity crisis and couldn't handle the deluge of withdrawal requests.
According to the lending platform, most of its loans were collateralized by Bitcoin. Moreover, as part of their terms, the platform cannot guarantee that clients would be paid in the event of rush requests for withdrawals.
This means, though adhering to applicable laws, the Celsius Network operates as an unregulated bank and doesn't offer investors deposit insurance in extreme cases such as insolvency.
For what's been increasingly becoming clear, the Celsius Network couldn't handle withdrawal requests and took the unpopular route of freezing transactions.
Celsius Network Paid a $47.1 million loan, pumped CEL
However, rumored intervention by Tether Holdings, the issuer of USDT, gives Celsius hope. The surge in CEL prices was due to the platform paying down a $47.1M loan against almost 24,000 BTC, reinforcing their liquidity.

This is a major confidence boost and a development likely to pump CEL in the coming days. Thus far, the platform has been open to the community, assuring them they are doing everything, acting in the community's interest, and restoring normalcy.