Despite tough restrictions placed on cryptocurrency mining and trading in China, the country still contributed around 20 percent of the Bitcoin hash rate, according to a research study by Cambridge Center for Alternative Finance (CCAF).
At this rate, China is slightly behind the U.S., which sourced over 37 percent of the total Bitcoin hash rate of 230 EH/s.

Since their crackdown in June 2021 that saw crypto and Bitcoin rigs shut down in expansive farms in Sichuan and other provinces with low electricity costs, the U.S has been establishing itself as a crypto and mining powerhouse in the past year, taking over from China.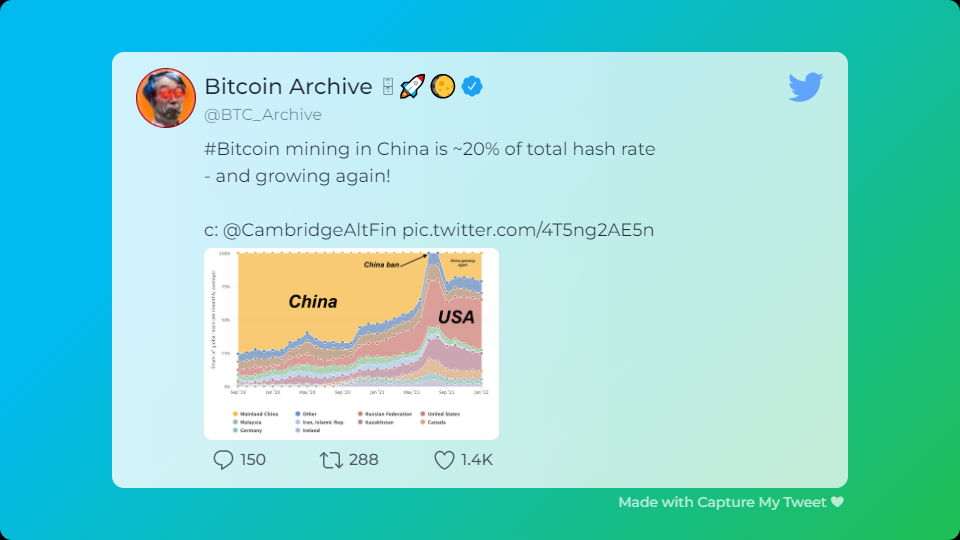 It is not yet immediately clear whether Bitcoin miners in China were operating legally or not. The research study also didn't establish whether Bitcoin mining rigs rely on green energy or coal and other fossil fuels to remain operational.
Crypto Banning for Economic Stability
However, what's evident is that even though government officials were hell-bent on decimating crypto and Bitcoin operators, there are stubborn users who still find the industry exciting and full of opportunities. It also highlights the benefits of crypto, specifically pointing at the high fluidity of Bitcoin and crypto in countries, regardless of their regulatory stance on the technology.
The ban on cryptocurrency mining and trading in China was a directive by the national executive. This blanket ban coincided with calls from activists who were protesting about the effect of Bitcoin mining on the environment and how the technology was fueling the use of fossil fuels leading to further degradation. While all regional districts must comply with the directive, it is upon local administrators to enforce the ban.

Therefore, the resurgence in crypto mining activity could be due to officials' laxity in rooting out crypto mining. However, there could be ideological differences. The directive was a move to primarily direct regional states in China to not rely on the crypto industry. Top officials in the national government claim that crypto is too volatile and prone to boom and bust cycles that could damage and destabilize their economy.
China Played a Big Role in Crypto
Before crypto trading and mining, China was the leading source of hash rate, a measure of computing power dedicated to the Bitcoin network. At the same time, before September 2017, they had a vibrant crypto trading ecosystem with highly liquid exchanges.
The Bitcoin network is now decentralized, with data centers spread out in different countries, making the blockchain more robust. As BlockMagnates reported, a municipality in Argentina is mining Bitcoin, citing the network's advantages as a store of value.