The LUNA collapse has sent shockwaves across the industry. To combat the collapse of Terra USD and subsequent de-peg of the largest stablecoin USDT, many exchanges have started using fiat USD again as a base currency for trading pairs alongside stable coins.
This article will explore how the USD regained its position as a base currency.
Terra USD and LUNA Collapse
The Terra UST collapse caught many unsuspecting investors. Investors and traders have lost billions in the stable coin collapse.
Stablecoins, which were earlier thought to be pegged to the US Dollar, were used as a store of value. But now, they are coming out loosely pegged to the USD, thereby affecting crypto trading pairs that relied on stablecoins. Even the USDT has been de-pegged and is trading at $0.99 per coin.
Some exchanges figured out a simple solution for it. They just returned to USD as an additional base for a trading pair.
Why the USD is a much safer base?
The USD has always been a base exchange value since the inception of modern age globalization. After the gold standard, USD was chosen because of its wide acceptance and stability.
According to the dollar index, the following graph denotes how stable the US Dollar is.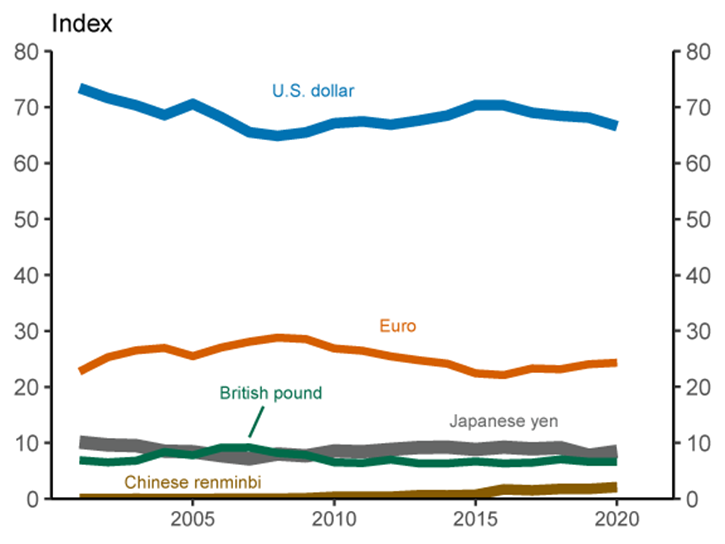 The same expectations were from stablecoins. Since each stablecoin was supposed to stay pegged to the base (mostly USD), investors and traders did not pay much attention to the risk. That is where the game went wrong.
Stablecoins like USDT are backed by assets to an extent and won't get wiped out overnight or over a week. However, that is not true for Algorithmically Stabilized Coins like UST. As soon as the algorithm fails, there starts a death spiral like what happened in LUNA and UST. Leverage Traders are at the highest risk here because they get multiplied returns as well as multiplied losses due to such rapid collapses.
As per Elliptic, a blockchain analytics firm, people lost nearly $42 Billion in the Terra LUNA collapse.
What are the Exchanges doing?
To avoid such a situation where the base (stablecoin) of a trading pair (BTC/USDT) collapses, making the trade unfavourable for exchanges, they are actively adding USD as a base.
This step might sound naive and move backwards in the evolution of cryptocurrencies. But since there is no trustable base currency as of now, the USD seems the only option. Further traders are themselves choosing USD as a preferred base pair.
Here have a look at some of the top exchanges data:

Six out of eight cryptocurrency pairs find USD as their choice. The data is from top exchanges and is taken from investing.com.
Let's have a look at what some individual exchanges are doing:
1. Bit.com
Bit.com has added USD as additional base pair alongside the USDT and BTC. Since the demand for USD trading pair is high across the industry, the pro-activeness of bit.com is commendable. As we can see, this USD base is available with most cryptocurrencies making it easy for users to buy any currency with fiat.
2. Bittrex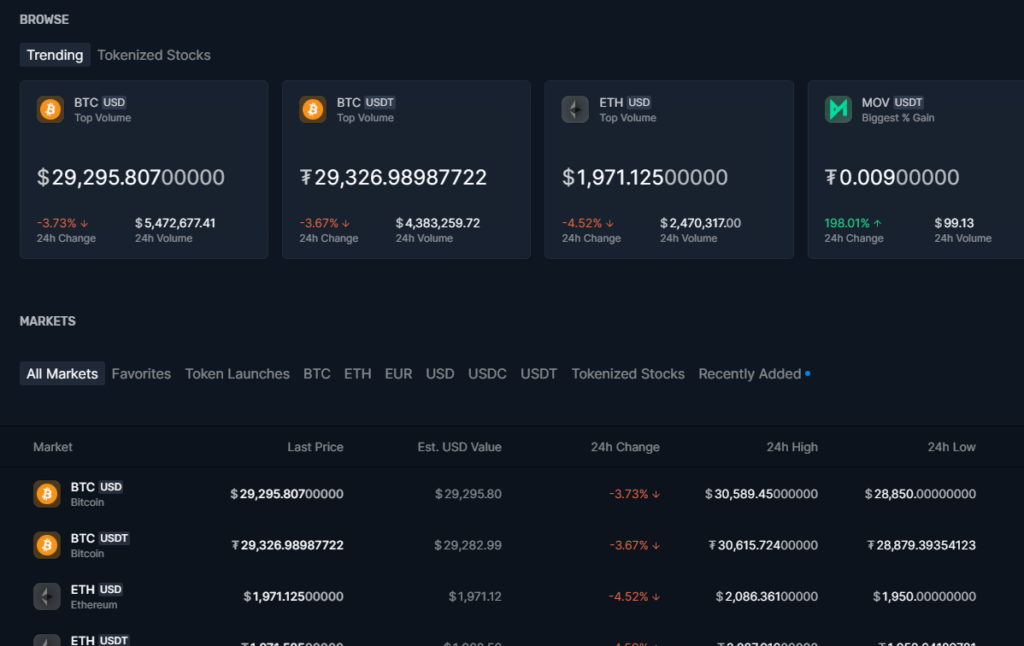 Bittrex has also added the USD as a base pair, and the pair is trending for Bitcoin. The volume for USD paired Bitcoin is nearly 20% higher than the USDT paired Bitcoin. The same is true for Ether. Further, all the popular cryptocurrencies are available to buy for USD, which were early trade-only tokens.
3. KuCoin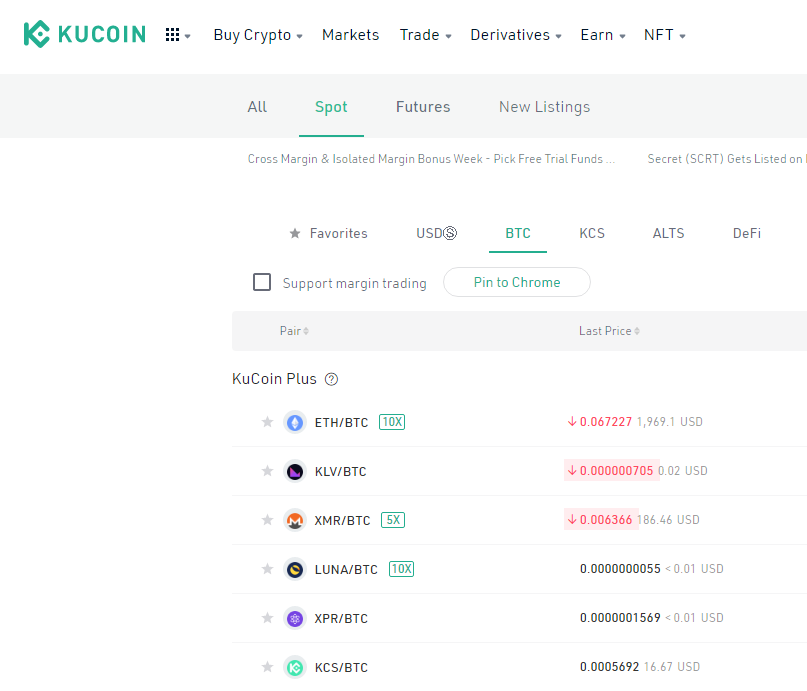 KuCoin is yet another popular cryptocurrency exchange and has not yet added the USD as a base trading pair. Lagging to act on critical developments in an industry that is highly competitive can prove fatal, especially when markets are bearish. The USD, which is listed just beside favourite, is the USDT and not to be confused with US Dollar.
Conclusion
The Terra LUNA collapse was a wake-up call in an exuberant market. Algorithmically stabilized coins proved that nothing could replace true fundamentals and base currencies anytime soon. Thus, making the desire for global fiat currency like USD much stronger as a base pair in cryptocurrencies. Therefore, people started choosing USD-based crypto pairs, as we saw. Dynamic exchanges like Bit.com were fast to act on the demand, whereas the bigger ones like KuCoin still lagged. Thereby signalling that relatively small exchanges can implement decisions much faster, adding to a rich user experience.