The crypto market slump wasn't an isolated event but a broad correction that saw leading Wall Street companies in the U.S lose over $1 trillion.
Wall Street Companies lose over $1 Trillion
According to reports, major technology companies like Facebook, Amazon, Apple, and Netflix fell from highs, wiping out billions.Apple, which is the world's most valuable company, is down over $220 billion in three days. At the same time, Microsoft, Tesla, Netflix, and major FAANG stocks lost a ballpark $150 billion in a damaging bear market that analysts say could force a recession in the months ahead.

The stock market draw-down saw FAANG companies drop to double digits according to data from Trading View. The figure could be higher in the days ahead should sellers press down, liquidating the positions and heaping more pressure on these tech stocks. The dump is attributed to changing central bank monetary policies and runaway inflation that governments worldwide are determined to stop.
Raging Inflation
In the U.S., inflation is at record highs, rising to over eight percent on a month-on-month basis, rising to the highest in decades. As a result of surging inflation threatening to erode purchasing power and destabilize the economy, the FED has intervened.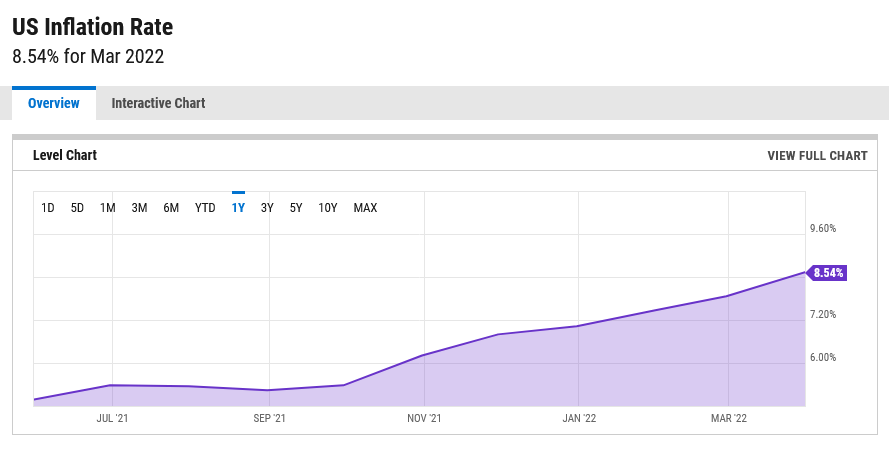 Already, they have tapered their bond purchase program and continue to raise interest rates to tame inflation. Last week, the central bank raised interest rates by half a percentage point, the largest single hike in two decades, with the primary objective of tacking and slowing down runaway inflation. Fed Chairman Jerome Powell acknowledged that inflation was too high, causing "hardship".
Inflation is much too high, and we understand the hardship it is causing. We're moving expeditiously to bring it back down. We have both the tools we need and the resolve it will take to restore price stability on behalf of American families and businesses. The economy and the country have been through a lot over the past two years and have proved resilient. We must bring inflation down if we are to have a sustained period of strong labor market conditions that benefit all.
In 2021, the FED was confident that though inflation would rise, they were convinced it would be temporary. However, their misjudgment and subsequent intervention is spooking the market, forcing a sell-off.
Crypto Market Lost $500 Billion in one Week

The cryptocurrency market is still reeling from the rough tides of early this week, which saw it lose over $500 billion in the last week.