Bitcoin ATMs are another bold milestone in crypto's ascendance into the financial mainstream. This industry has slowly gained the accessories that define our modern financial system. The rise of ATMs offers unparalleled convenience to Bitcoin purchases using cash.
Its volatility notwithstanding, certain infrastructural changes to the Bitcoin landscape endure. Exchanges are now safer and more accessible. Purchasing cryptocurrency is easier, with more alternatives. Bitcoin ATMs work slightly differently from regular ATMs. Instead of withdrawing cash, you deposit cash. The cash purchases Bitcoin, which is then automatically routed to your crypto wallet through a QR code or passphrase.
The Sharp Rise of Bitcoin ATMs in Q1 2022
Bitcoin ATM tracking site Coin ATM Radar, indicates that almost 3,000 more Bitcoin ATMs have been installed globally in the first quarter of 2022. This figure takes the total tally to approximately 36,700 machines by the end of March. It is up from about 33,900 when the year started. This figure tallies with the increase year to date since over 20,000 ATMs added since 2020.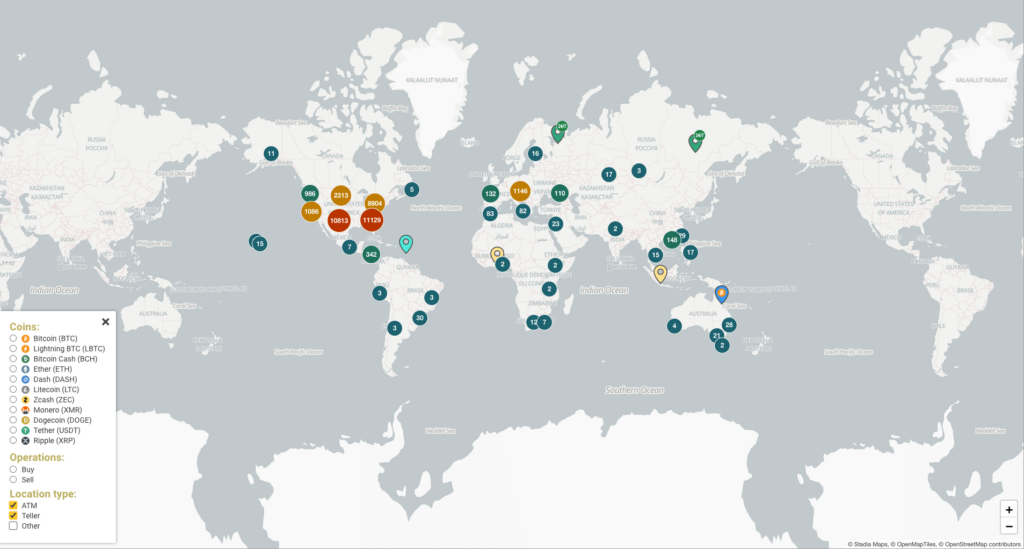 Bitcoin's historic rally at the end of 2020 had a significant effect on the lucrativeness of this asset. More people started researching ways to own this asset and transact freely. Bitcoin ATM operators invested more in these machines, and the trend seems to continue into 2022.
Convenience Fueling Popularity
Bitcoin ATMs are primarily popular for their convenience. One only needs to set up their crypto wallet, deposit cash in the ATM, and get the Bitcoin in their wallet. It cuts down the processes one would need to purchase coins using an exchange.
This convenience is pretty much all of the allure because the ATM operator will not require an account to buy Bitcoin. Other than the risk of being physically robbed, Bitcoin ATMs have a flawless safety record. These reasons explain the rising popularity of these machines.
For clarity, the ATMs only share that name with bank automated teller machines because they look similar. However, don't expect to press on it and have Bitcoin trickling out with the signature ATM withdrawal sound. Bitcoin is a virtual asset, and the ATM only facilitates its purchase with cash.
Major Bitcoin ATM operators include Bitcoin Depot, Coin Cloud, and Coinflip. There are smaller regional companies, but they use the same operating model.
The U.S. holds the majority of new Bitcoin ATMs, accounting for three-quarters of global ATMs. Canada is another significant region while Spain has the lead among European countries. ATM usage may be impressive, but the industry has only scratched the surface and regulators catching up.
Regulatory concerns over Crypto ATMs
Bitcoin ATMs allow individuals to purchase Bitcoin using cash. ATM operators are non-traditional players and place few checks for cash deposits. Usually, when you take tens of thousands of dollars to a bank, you have to explain its source. Failure to explain sourcing will lead to account flagging or freezing depending on the severity of the non-disclosure.
Well, Bitcoin ATMs don't have the reporting infrastructure that banks boast. The convenience and ease of deposits come in handy for nefarious actors, explaining why they have also been a target for criminals. The most obvious concern here is money laundering. There is little to prevent someone from depositing illicit money to gain Bitcoins. Once the money is in crypto, there is nothing to track its movement and entry as clean money.
Some ATM operators have started taking measures to combat such vices. These include maximum deposit thresholds that prevent massive cash deposits. Even then, the depositors don't have ways to prevent multiple deposits spread out in various ATMs.
Law enforcement agencies are taking regulatory steps to monitor ATM activity. New York requires ATM operators to get licensing, that likely involves the requirement to operate legally and protect consumer interests.
Unfortunately, a unified crypto legislative framework does not exist in most countries for proper guidance.
A Balanced Approach to Their Rise
Being nuanced is vital in policy discussions. Bitcoin ATMs introduce unparalleled convenience in purchasing crypto. However, some nefarious actors can take advantage of this ease to their illegal ends.
Therefore, proposed regulations must balance this dichotomy. It is not time to throw out the baby with the bathwater. Reasonable and targeted regulations are suitable for providing the path forward.